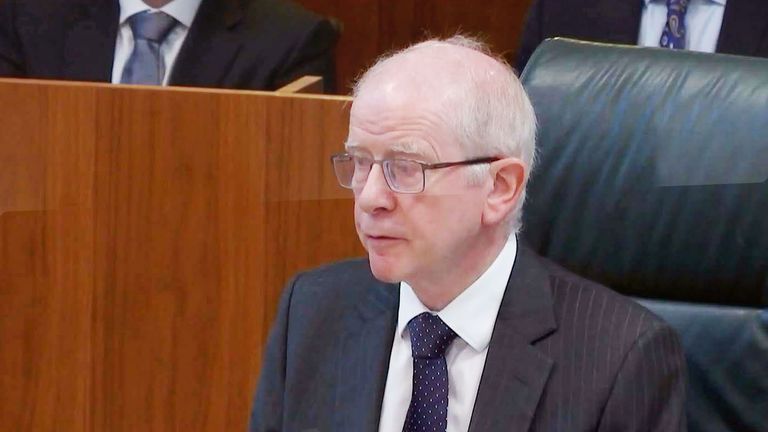 Rishi Sunak has said he will introduce emergency legislation to make sure his Rwanda plan is not blocked again – and insisted "flights will be heading off in the spring as planned".
After the Supreme Court ruled the flagship asylum policy is unlawful, the prime minister said he had been working on a new international treaty with the East African nation to address the judges' concerns and ensure it is "safe".
He said: "This will provide a guarantee in law that those who are relocated from the UK to Rwanda will be protected against removal from Rwanda and it will make clear that we will bring back anyone if ordered to do so by a court.
"We will finalise this treaty in light of today's judgment and ratify it without delay."
Politics latest: Labour frontbencher resigns over Starmer's Gaza stance
Mr Sunak insisted the legislation would "end the merry-go-round" of legal challenges that have stopped flights from taking off since the controversial plan was announced in April last year.
The policy would see anyone arriving in the UK by unauthorised means deported to Rwanda to claim asylum there – not the UK.
"We need to end the merry-go-round," Mr Sunak told a Downing Street news conference.
"I said I was going to fundamentally change our country, and I meant it."
The PM said he would be taking the "extraordinary step of introducing emergency legislation", which will "enable parliament to confirm that with our new treaty, Rwanda is safe".
But he also acknowledged that even if domestic laws are changed, the government could still face legal challenges from the European Court of Human Rights and vowed: "I will not allow a foreign court to block these flights."
"If the Strasbourg court chooses to intervene against the express wishes of parliament, I am prepared to do what is necessary to get flights off," he said.
Read more:
Why Sunak's promise looks extremely hard to keep | Beth Rigby analysis
Explainer – how did the government policy end up in the courts?
Supreme Court rules Rwanda plan unlawful

In its ruling on Wednesday, the UK's highest court said refugees sent to Rwanda would be at "real risk" of being returned to their country of origin, whether their grounds to claim asylum were justified or not – breaching international law.
It has fuelled calls from some Tory MPs to pull the UK out of the European Convention on Human Rights (ECHR) in order to push forward with the plan – something Mr Sunak has so far resisted doing.
An eleventh-hour injunction from the ECHR stopped the first scheduled flights from taking off to Rwanda's capital Kigali last June, and no one has been deported since.
Asylum seekers celebrate Rwanda verdict

The Supreme Court judges said it is not only the ECHR which is relevant to their ruling, pointing out that the UK is signed up "other international treaties which also prohibit the return of asylum seekers to their countries of origin without a proper examination of their claims".
What happens now?
The prime minister set out a two part plan – first, putting the Rwanda agreement into a treaty, ensuring once asylum seekers are taken to the country, they will stay there.
But it was the second bit that we didn't know was coming that could prove controversial – the emergency legislation.
It sounds as if the PM is planning to pass a law that declares Rwanda a 'safe' country and that cannot be challenged in the UK courts on the basis of the European Human Rights Convention and other international human rights laws.
In effect, the UK courts would have to accept that judgment as parliament is sovereign. So, providing this legislation doesn't get gummed up in the House of Lords, that's the domestic courts sorted.
However, that legislation would not override the European Court of Human Rights in Strasbourg.
An asylum seeker would be able to take their claim to that court, which would then make its own judgment on whether Rwanda is 'safe', as the UK government would have declared.
Even before they have ruled, the Strasbourg court could issue a "rule 39" order to block flights. It sounds from the news conference as if Sunak would simply ignore that if it came again. This means there's a much higher chance flights to Rwanda might be able to take off.
A judgment from the Strasbourg court that Rwanda is not, in fact, a safe country would in time likely set up a huge political and legal battle for the government.
Would they simply ignore the ruling and send flights to Rwanda anyway? Is the government happy to be in breach of the European Convention of Human Rights? Would we be expelled or leave?
Big questions, but perhaps ones not settled this side of an election. Which might just be the point.
Mr Sunak was not clear about how he thinks he can circumvent human rights laws and international conventions.
However he said he was confident that his new plan will work.
The PM said he is "delivering" on his pledge to stop the boats, and the new treaty is "ready to go" to reassure the courts.
"We will clear the remaining barriers and flights will be heading off in the spring as planned," he added.
The news conference came shortly after new snap polling from YouGov show most people believe the policy should now be scrapped.
However, some Tory MPs want Mr Sunak to go further and disapply human rights laws so the scheme can go ahead.
Rwanda ruling 'massive blow' to PM

Suella Braverman, who was sacked as home secretary on Monday, has called for emergency legislation to "block off the ECHR and other routes of legal challenge".
Conservative Party deputy chairman Lee Anderson said the government should "ignore the laws" and send migrants back the same day they arrive in the UK.
The New Conservatives, a right-wing pressure group of MPs, said Mr Sunak's new legislation "must disapply the Human Rights Act and give effect to the policy *notwithstanding* the ECHR and Refugee Convention".
"It must restate the power of Govt to disregard interim rulings from Strasbourg," they posted on X.
Britain is expected to pay Rwanda more money for the new treaty, having already handed over £140m under the plans that have seen not one asylum seeker removed since it was announced.
Earlier, Labour leader Sir Keir Starmer demanded an apology to the nation from Mr Sunak for wasting millions of pounds of taxpayers' cash on the "ridiculous, pathetic spectacle".