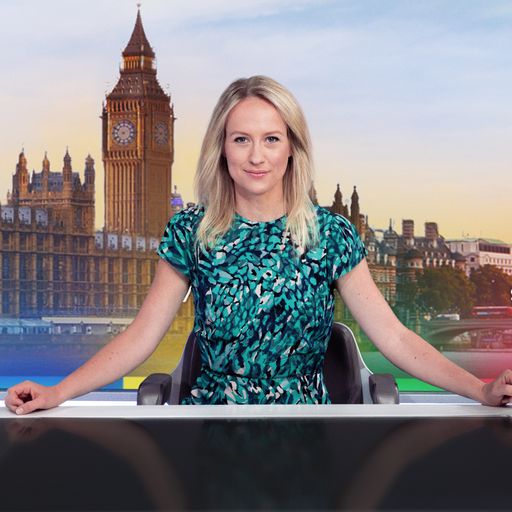 The coming of the autumn means it is party conference season.
MPs leave Westminster, with each of the parties descending on a city or town alongside their party faithful and the media for days of speeches, fringe events, networking and, quite often, drama.
These gatherings are ostensibly to hammer out policy, set the party's agenda and present a united front to voters, but they don't always go according to plan.
For prime ministers and party leaders, party conferences can often make or break their careers.
So ahead of this year's gatherings, we take a look at some previous conference moments that have made headlines.
Join Sky News for this year's conferences:
Liberal Democrats: 23 – 26 September
Conservatives: 1 – 4 October
Labour: 8 – 11 October
SNP: 15 – 17 October
Politics Hub with Sophy Ridge
Sky News Monday to Thursday at 7pm.
Watch live on Sky channel 501, Freeview 233, Virgin 602, the Sky News website and app or YouTube.
1980: 'The lady's not for turning'
Around 18 months into her premiership, Margaret Thatcher was facing a tough economic picture. Unemployment was rising, and there were rumblings within her own party about the direction the prime minister was taking.
Mrs Thatcher had begun changing the law around trade unions, and introduced the legislation to let people buy their own council homes. Privatisation had begun.
The UK's first female leader remained defiant, telling the assembled party faithful in Brighton: "To those waiting with bated breath for that favourite media catchphrase, the U-turn, I have only one thing to say – you turn if you want to. The lady's not for turning."
Mrs Thatcher did indeed carry on with her economic plan, with unemployment beginning to fall after peaking at three million.
She would solidify her leadership with a victory in the Falklands War and went on to win two more elections, serving as PM until 1990.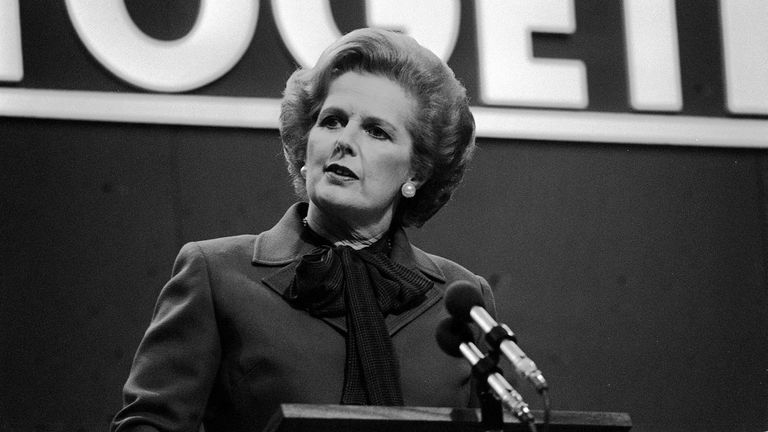 1981: Steel tells Liberal activists to 'go back to your constituencies and prepare for government'
Just a year after Mrs Thatcher told her party how she felt about changing tack, Liberal leader David Steel sought to inspire confidence in his activists.
The conference in Llandudno saw the party vote to adopt its alliance with the Social Democratic Party, endorsing a partnership that would precipitate the eventual creation of today's Liberal Democrats.
Headwinds for the government and a strong by-election performance saw incredibly optimistic polling for the Liberals, and Mr Steel was clearly confident in his party's chances.
It was on that note that he told those gathered on the shores of the Irish Sea: "Go back to your constituencies and prepare for government".
The boost of the successful campaign in the Falklands and an economic swing from recession to growth buoyed the Conservatives in 1983 – with the SDP-Liberal Alliance winning only 23 seats in total.
It would be 29 years before any Liberal Democrat MPs were vindicated in preparing for government during a general election campaign, when they entered a coalition with the Tories in 2010.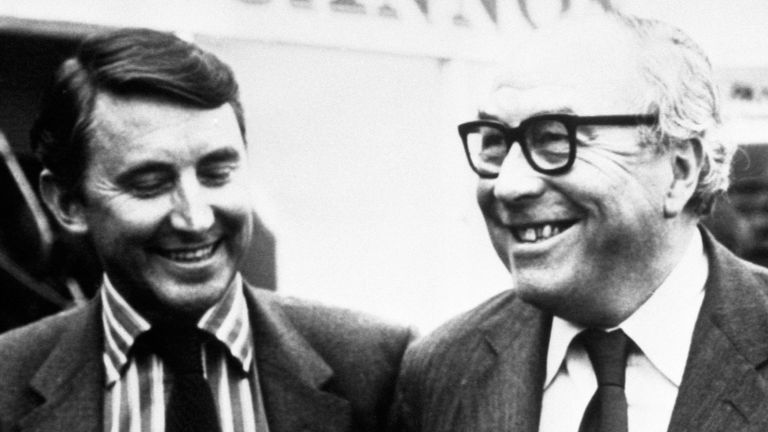 1984: IRA bombing
A year after Mrs Thatcher's landslide 1983 election victory, the Conservative Party conference in Brighton was marred by tragedy.
A month before the conference got under way, IRA member Patrick Magee booked into the hotel where the PM would be staying and planted a bomb with a long delay fuse under the bath in his room.
As the clocks swept past 2.30am on 12 October, Mrs Thatcher was in her room at The Grand Hotel, going over the speech she was set to give the next day.
At 2.54am, Magee's bomb exploded, destroying a number of rooms and bringing down a chimney stack.
Mrs Thatcher and her husband, Denis, survived – as did all the members of the cabinet. But five others – including deputy chief whip Sir Anthony Berry – died.
Read more from Sky News:
What is the New IRA?
Stormont ordered to stop delaying compensation to Troubles victims
The conference went ahead, with Mrs Thatcher telling delegates: "This government will not weaken. This nation will meet that challenge. Democracy will prevail."
Magee was given eight life sentences in 1986, but was released under the Good Friday Agreement in 1999.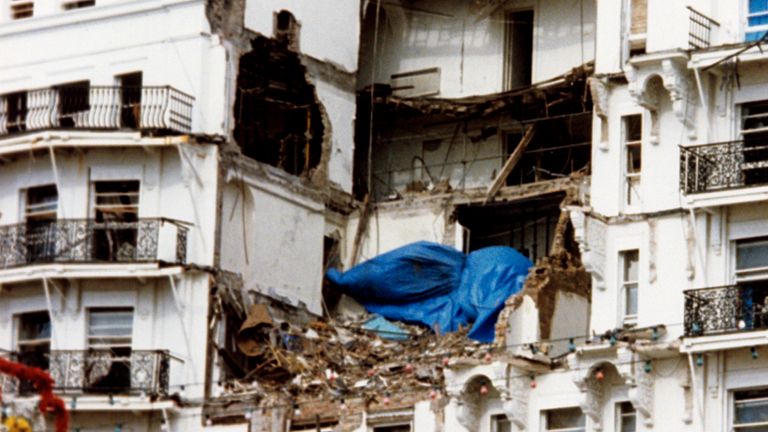 1985: Kinnock's Militant Tendency speech
Six years and two election losses into Mrs Thatcher's premiership, Labour was floundering in opposition.
Neil Kinnock was the man tasked with bringing the party back into government after the 1983 election wipeout under Michael Foot.
The goal he set himself at the Bournemouth gathering in 1985 was to make clear to the more radical parts of Labour that they were not welcome in his plans for the party.
The leader would have been hoping to avoid the embarrassment of 1983, when he fell over on a beach in Brighton.
He used his speech to a tempestuous conference to single out Liverpool City Council, which was controlled by members of the Militant faction of Labour.
The council had set an illegal budget which spent more than the local authority made, claiming that the central government under Mrs Thatcher should fill the shortfall. This was done to protest against the limits to the money the council could raise.
The financial difficulties this caused led to the council sending notice letters to 30,000 employees.
Criticising the left-wing of his party, Mr Kinnock said: "I'll tell you what happens with impossible promises. You start with far-fetched resolutions.
"They are then pickled into a rigid dogma, a code, and you go through the years sticking to that, out-dated, misplaced, irrelevant to the real needs, and you end up in the grotesque chaos of a Labour council hiring taxis to scuttle round a city handing out redundancy notices to its own workers."
These words were met with applause and cheers from most of the crowd, but some booed and walked out, including MP Eric Heffer. Derek Hatton, the deputy leader of Liverpool City Council, said Mr Kinnock's words were "rantings and ravings".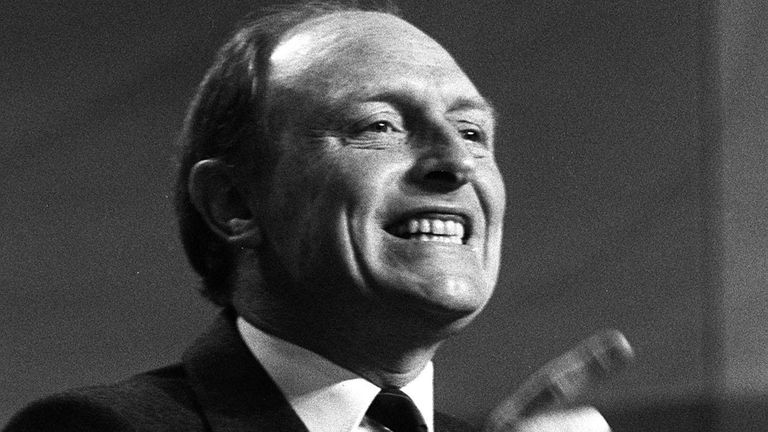 2003: IDS 'turns up the volume'
Sir Iain Duncan Smith had been leader of the Conservative Party for two years when he stood up to deliver his speech in Blackpool, but he was facing rumblings of rebellion within his own ranks as MPs and members grew disheartened.
So he decided to go on the front foot.
The previous year, Sir Iain had told the audience his opponents should not underestimate "the determination of a quiet man".
He played off this riff, stating that the "quiet man is here to stay, and he's turning up the volume". Sir Iain told his party that they "either want my mission, or you want Tony Blair – there is no third way".
But after a poor set of local election results later in the year, Sir Iain lost a vote of no confidence of his MPs and was out as leader.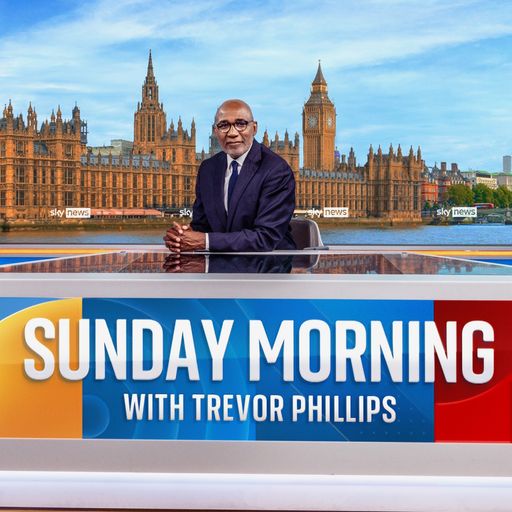 Sunday Morning with Trevor Phillips
Watch live each week on Sunday at 8:30am on Sky channel 501, Freeview 233, Virgin 602, the Sky News website and app or YouTube.
2005: Labour activist removed from hall for heckling foreign secretary
By 2005, the New Labour project was past its zenith. While Sir Tony Blair had won his third election, he had committed to not contesting a fourth.
The government was having to fight a rearguard action in the UK following the invasion of Iraq.
Opposition from within the party was coalescing around those who were also part of groups like the Campaign for Nuclear Disarmament and the Stop The War Coalition.
It was not surprising, then, that disunity within Labour became one of the themes of the Brighton conference.
Jack Straw, then the foreign secretary, was giving a speech about the Iraq war. He told delegates that "we are in Iraq for one reason only – to help the elected Iraqi government build a secure, democratic and stable nation – and we can and will only remain with their consent."
Read more from Sky News:
How The Iraq War Unfolded
Iraq War 20 years on
As he uttered the line, 82-year-old veteran Labour member Walter Wolfgang shouted "nonsense" – and according to some reports, "that's a lie".
As cameras panned towards the octogenarian – who had been a member of the party for more than 50 years – security could be seen manhandling Mr Wolfgang out of the conference hall.
He was later ejected from the conference as a whole, and when he tried to get back into summit he was held – but not arrested – using anti-terror laws.
The subsequent furore lead to a number of apologies, including from Sir Tony the next morning, and Mr Wolfgang being allowed to re-enter the conference the next day.
A founding member of the Campaign for Nuclear Disarmament, Mr Wolfgang arrived in the UK just before the Second World War as his family fled the persecutions of Jews in Europe.
His treatment drew criticism from many parts of Labour, and he was greeted with a standing ovation when he returned to the conference hall.
Mr Wolfgang died in 2019.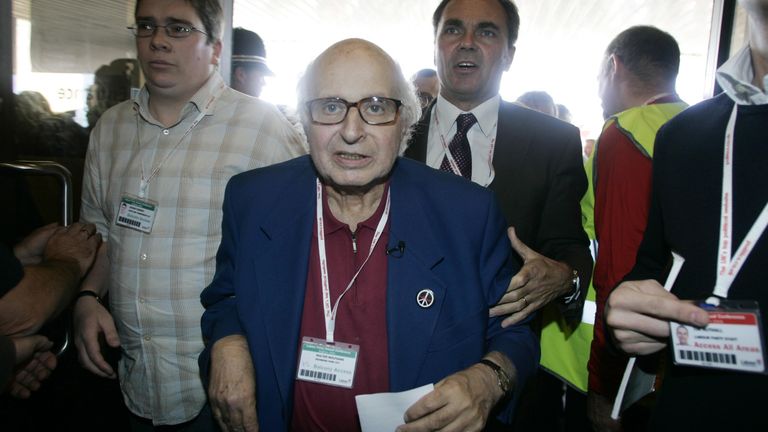 2007: Osborne increases inheritance tax threshold
By now, Gordon Brown was prime minister. After years of tensions behind the scenes with Sir Tony, the latter had finally decided to stand aside. Mr Brown was elected unopposed as Labour Party leader, becoming PM in the process.
Having taken over in June, he was riding a wave of popularity heading into the conference. Mr Brown was judged to have deftly handled a foot and mouth outbreak, the run on Northern Rock, terrorist incidents and flooding.
In the midst of this honeymoon period, speculation grew about the possibility of Mr Brown seeking to capitalise on this and call an election to gain a mandate from voters.
Labour's conference became dominated by the nascent vote, with people wondering when it would happen, not if.
There was no mention of an election in Mr Brown's first conference speech as leader, meaning the speculation around a snap poll continued to rumble on as the Conservatives gathered for their conference in Blackpool.
Shadow chancellor George Osborne used his speech to announce a major policy shift that generated positive headlines, pledging to scrap inheritance tax for bequeathments under £1m.
A few days later, Mr Brown ended election speculation by confirming he would not go to the country. He denied being swayed by polling which suggested the Tories were ahead in marginal seats, while the Tories accused him of bottling it.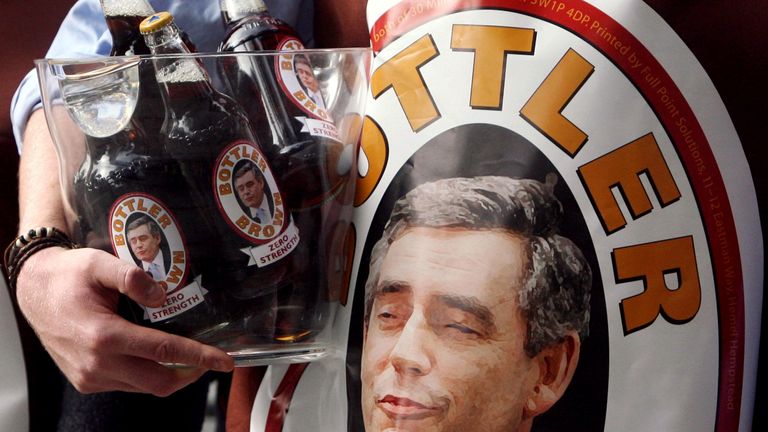 2017: May's disastrous speech
One prime minister who did call a snap election after taking over was Theresa May.
But Mrs May's gamble backfired spectacularly – she lost her party's majority and was forced to rely on the Democratic Unionist Party to pass legislation through a confidence and supply deal.
Mrs May managed to hang on to her job, although she needed a drama-free party conference to keep things on track as she tried to negotiate Brexit.
But things did not go according to plan during her speech.
First off, a persistent cough dogged her attempts at oratory; attendees were quick to rise to their feet in applause to give their leader a break. At one point, Chancellor Philip Hammond offered up a cough sweet. Mrs May also swigged water throughout.
Watch Tory conference literally falling apart


Secondly, comedian Simon Brodkin interrupted Mrs May's speech to hand her a P45 – the document someone gets when they leave a job. The mock document gave the reasons for Mrs May leaving office as "neither strong nor stable", and "we're a bit worried about Jezza". Mr Brodkin joked that Boris Johnson had told him to do it.
The final disaster was with the backdrop of the speech. Letters behind Mrs May said: "Building a country that works for everyone".
During the speech, the "f" fell off, with an "e" dropping later.
It was a disastrous affair all round, and emboldened the opposition to Mrs May within her own party.
The following year, Mrs May sought to head off similar conversations by dancing her way onto the stage, but her moves were labelled robotic and awkward by critics.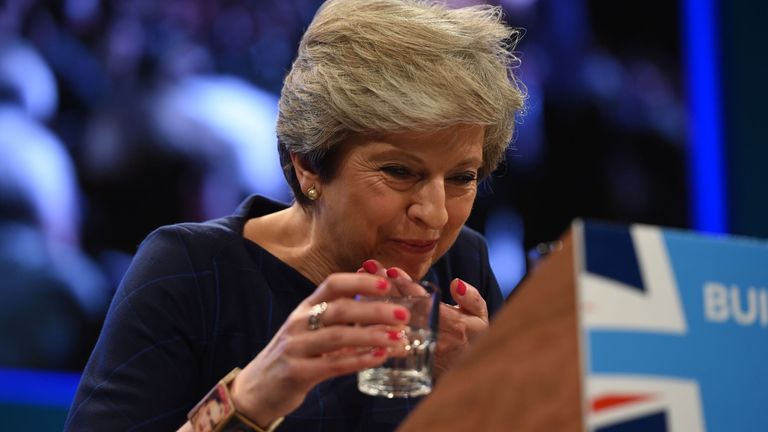 2021: Starmer heckled by Labour activists
Following the disruption of COVID in 2020, autumn 2021 marked Sir Keir Starmer's first chance to address a Labour Party conference in person.
But as he was giving his speech, several people heckled him from the floor of the auditorium.
Starmer heckled at Labour conference


One notable heckler was Carole Vincent, a former contestant on Big Brother. She could be seen shouting and pointing at Sir Keir.
In response, he said: "Shouting slogans or changing lives, conference?", to a standing ovation.
Another audience contribution saw Sir Keir say he was used to being heckled by the Conservatives at PMQs on a Wednesday, but "it doesn't bother me then, it doesn't bother me now".
Ms Vincent told Sky News her intervention was about "standing up in a principled manner against what he was saying, because he wasn't saying 'we are going to give a £15 minimum wage'."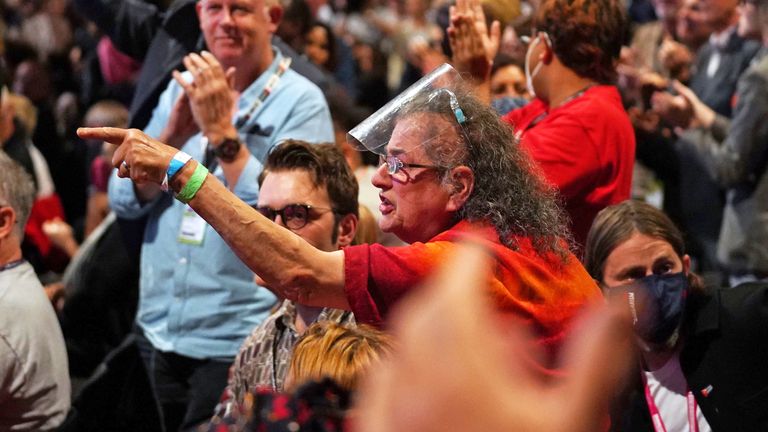 2022: Kwarteng U-turns on cutting top rate of income tax
There were not many quiet days while Liz Truss and Kwasi Kwarteng were in charge of the country – the Conservative Party conference in Birmingham was no different.
The pair went into October's conference battling a potential collapse of the pensions sector as markets baulked at their mini-budget. The cornerstone of that fiscal plan was tax cuts funded by borrowing, which some classed as "unfunded".
Moment chancellor U-turns on tax rate


A lightning rod for those displeased with the mini-budget was a plan to abolish the top rate of income tax set at 45p in the pound for those making more than £150,000. It was seen as giving a tax cut to wealthier people at the expense of others.
As the conference started – just a week after the mini-budget – Ms Truss and Mr Kwarteng were both staunchly defending the plans.
But there was open mutiny among Tory MPs. In the early hours of the second day of conference, it started to emerge that a U-turn was imminent – and the scrapping of the 45p tax rate was ditched later on that morning.
Click to subscribe to the Sky News Daily wherever you get your podcasts
Just hours later, Mr Kwarteng stood up to deliver his speech to conference, in which he had to defend the gutting of his mini-budget. He claimed the leadership had "listened" and therefore changed tack. Ms Truss said similar in her address.
The events at the conference marked the beginning of the end for the duo. Mr Kwarteng was sacked 11 days later, and Ms Truss announced she was following him out of Downing Street before October was out.