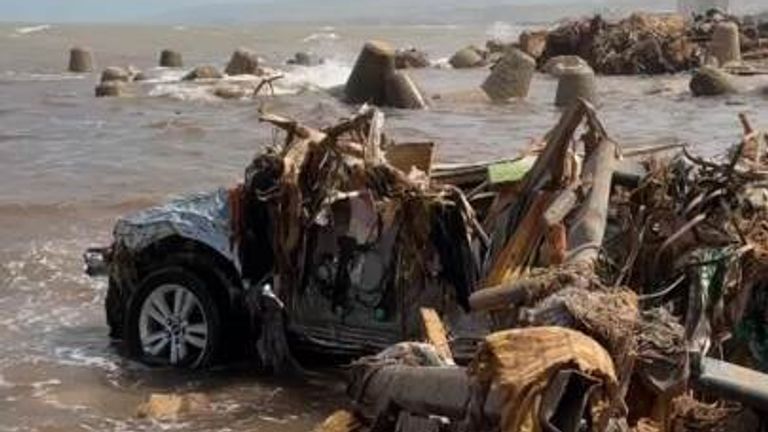 Experts warned about the structural integrity of the Derna dams for almost 40 years, a Libyan state prosecutor said, as the search continues for bodies after last week's devastating floods.
Concerns were first raised in 1986 after the dams – built by a Yugoslavian construction company in the 1970s – suffered major damage after a severe storm.
A study commissioned by the Libyan government a decade later revealed their structures contained cracks and fissures, according to the country's general prosecutor, Al-Sediq Al-Sour.
In 2007, the Turkish firm Arsel Construction Company was contracted to maintain the two dams and to build a third.
The firm's website claims the works were completed in November 2012 but recent satellite photos show no third dam was built. Arsel did not respond to requests for comment.
Many foreign companies fled Libya after the NATO-backed uprising and civil war in 2011 in which long-serving ruler Muammar Gaddafi was toppled.
Some time later, around £1.6m was set aside for the dams but a 2021 report by a state-run audit agency found they were not maintained.
Mr Al-Sour previously said prosecutors would investigate the collapse of the dams and the allocation of funds.
The floods killed at least 11,000 people, with more than 10,000 still missing. Much of Derna has been destroyed.
The health minister from Libya's eastern government, Othman Abduljaleel, said on Sunday that 3,283 bodies had been buried – many in mass graves outside Derna, while others were transferred to nearby towns and cities.
Flooded vehicles 'trying to escape'

Click to subscribe to the Sky News Daily wherever you get your podcasts
Rescue efforts have been hampered by poor coordination, difficulty getting aid to the hardest-hit areas, and the destruction of Derna's infrastructure, including several bridges.
It also emerged that ahead of Storm Daniel, rival administrations ruling Libya – one in the west backed by several armed groups and militias, and the second in the east allied with the self-styled Libyan National Army – gave conflicting warning messages.
The municipality of Derna published statements on its website urging residents to evacuate the coastal areas. But many residents said they received text messages on their phones urging them not to leave their homes.
Read more:
Fears grow over spread of disease after deadly Libya floods
Before and after pictures show devastation in Derna
The missed chances to save Libya's flood victims from disaster
Activists are calling for an international probe, fearing that a local investigation would be fruitless in such a divided country.
Libya has suffered from weak public institutions, internal conflict and deep instability, which allowed corruption to become rife with few to no checks on public sector abuse, according to Transparency International.
Meanwhile, the United Nations Support Mission in Libya said it was concerned water contamination and the lack of sanitation after the dams collapsed would result in "a second devastating crisis".
Haider al-Saeih, head of Libya's Centre for Combating Diseases, said in televised comments on Saturday that at least 150 people suffered diarrhoea after drinking contaminated water in Derna.