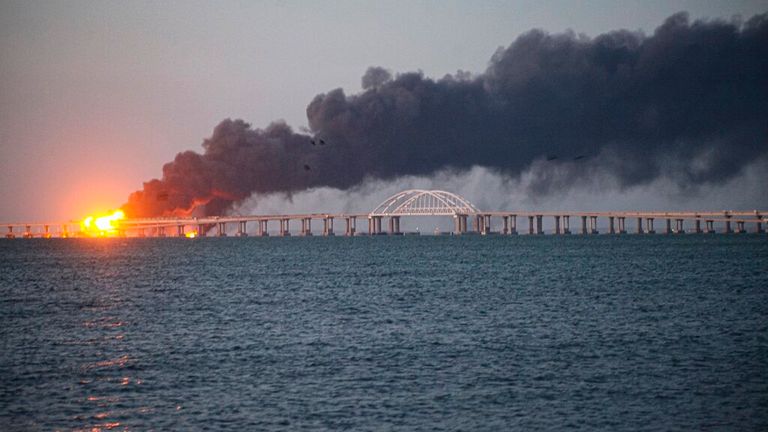 Large explosions have been reported in Ukraine's capital Kyiv following the sound of incoming missiles.
The city's mayor Vitali Klitchko posted on Telegram: "Several explosions in the Shevchenskivskyi district – in the centre of the capital."
A spokesperson for the State Emergency Services told the Suspilne public broadcaster there had been fatalities and injuries.
A witness told the Reuters news agency that black smoke was seen rising from a building in the city centre following the sound of a blast.
Putin accuses Ukraine of 'terrorist act' – Ukraine latest
Others on social media posted images alleging to be from the city, with some claiming a "missile attack" was "struck down" by Ukrainian forces.
Kyiv has largely been quiet since early in the war, with the front line moving to the east and south after Moscow failed to topple the government.
It comes just days after an explosion on the Kerch Strait Bridge that links occupied Crimea to Russia.
The blast caused serious damage and will further squeeze supply lines for Kremlin forces fighting in Ukraine.
Nobody has claimed responsibility for the attack on Saturday.
Vladimir Putin, facing rare direct criticism at home, accused Ukraine special forces of carrying out the strike.
However, Mykhailo Podolyak, an advisor to Ukrainian President Zelenskyy, tweeted: "Putin accuses Ukraine of terrorism? Sounds too cynical even for Russia.
"Less than 24 hours ago (Russian) planes hit residential area of Zaporizhzhia with 12 missiles, killing 13 people and injuring more than 50.
"There is only one terrorist state here and the whole world knows who it is."