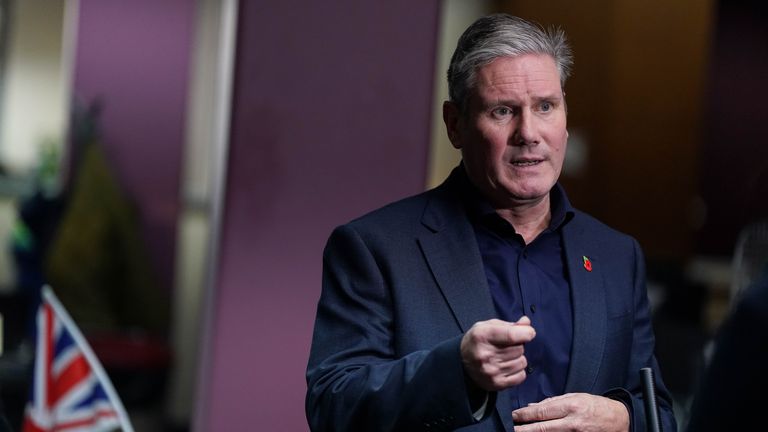 Given the mutinous mood among Tory MPs this week, Sir Keir Starmer will probably be relieved that the rebellion by Labour frontbenchers on an Israel-Hamas ceasefire was confined to around a dozen MPs.
Yes, a total of 56 Labour MPs were among the 125 who voted for the SNP motion calling for an immediate ceasefire. And the number would have been 61 if renegades like Jeremy Corbyn and Diane Abbott were still Labour MPs.
The 56 included many of the so-called "usual suspects" on the Labour left: Corbyn cheerleaders like Richard Burgon, Ian Lavery, Rebecca Long-Bailey, John McDonnell, Angela Rayner's former "soulmate" Sam Tarry and Jon Trickett.
Politics latest: Starmer suffers major rebellion
Crucially for Sir Keir, there were no shadow cabinet rebels and the nine shadow ministers and parliamentary private secretaries were nearly all minor figures holding low-key posts. Most were not even a household name in their own home.
But the big exception was Jess Phillips, the high-profile and extrovert shadow Home Office minister, a combative and persuasive media performer and a hard-hitting scourge of the Tory government in the Commons.
She's by far the biggest loss to Sir Keir's frontbench team after this rebellion, and the Labour leader will need to be forgiving after a decent interval and is likely to be looking for a reason to restore her to the frontline before the general election.
During the five-hour debate, there was chatter around the Commons chamber and in the lobbies about a behind-the-scenes deal between Labour and the Conservatives to avoid a vote on the SNP ceasefire motion.
It was claimed the government might not vote against the Labour amendment, since it was fairly bland and innocuous and not far from the government's own position, which would have meant no vote on the SNP motion.
But it turned out that was a conspiracy theory being put about by Labour left-wingers and the government was having none of it. And when voting on Labour's motion began at 7pm the shouts of "No!" almost drowned those of "Aye!"
Why, after all, would Rishi Sunak – battling against his own rebel MPs over Rwanda, the sacking of Suella Braverman and the recall of Lord David Cameron – want to spare Sir Keir's embarrassment and get him off the hook?
Why indeed? On a day when the prime minister was facing his own potential mutiny, the Tories were more than happy to see Sir Keir squirm.
Even if the Labour leadership is now insisting the rebellion was no bigger than was expected.