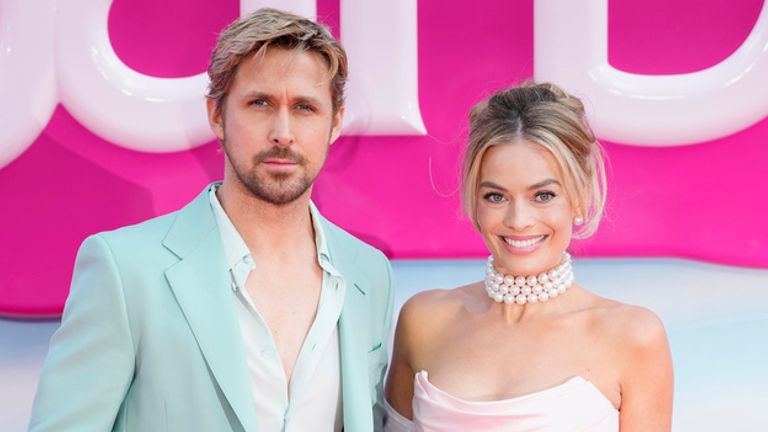 The Barbie movie contributed more than £80m to the UK economy and created nearly 700 jobs, according to the studio behind the box office smash.
Greta Gerwig's film, starring Margot Robbie as Barbie and Ryan Gosling as Ken, was largely shot at Leavesden studios in Hertfordshire.
Warner Bros said the movie generated more than £95m as itprovided written evidence to MPs on the Culture, Media and Sport Committee as part of the inquiry into British film and high-end TV.
Outlining the benefits of Barbie to the UK economy, Warner Bros said: "During its production in the UK, it contributed over £80m in direct spend to the local economy, created 685 jobs, involved over 6,000 extras, supported 754 local businesses, paid over £40m in local wages.
"It has also generated over £95m in box office revenues in the UK alone. As such the benefit of attracting such productions are that they are net positive for the UK."
Barbie premiere: Stars on the pink carpet

Other movies filmed at Leavesden include the Harry Potter franchise, The Batman and Aquaman.
The 200-acre site was also used to film Wonka, inspired by Roald Dahl's Charlie & The Chocolate Factory and starring Timothée Chalamet.
Barbie is the biggest film of 2023 so far and has out-earning 2022's biggest hit Top Gun: Maverick.
It has surpassed the final Harry Potter movie to become the top-grossing Warner Bros film of all time at the worldwide box office.
Robbie and Gosling on Barbie 'absurdity'

Read more:
Barbenheimer backlash as studio regrets 'insensitive' social media posts
Keir Starmer compared to Ken from Barbie film
Barbie movie banned in Kuwait as Lebanon
The MPs' committee has written to Chancellor Jeremy Hunt ahead of the autumn statement in a call for targeted tax support and changes to regulations impacting the British film industry.
The inquiry has received 130 pieces of written evidence from across the sector, including film studios such as Paramount and Amazon, as well as industry bodies including the British Film Institute.
Click to subscribe to Backstage wherever you get your podcasts
Evidence from the UK Screen Alliance says the UK is at risk of losing its position as a world leader in visual effects and said targeted tax relief is needed.
The written evidence says: "There is considerable unrealised potential which is being held back by unintended consequences of the structure of the tax reliefs which rather than attracting VFX work to the UK, very often drives it away."
The committee has now called for targeted tax support to ensure more visual effects work takes place across the whole of the UK.