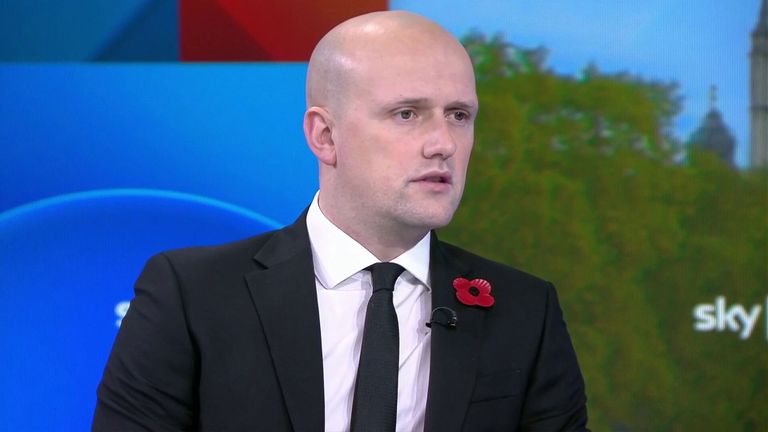 Labour will put forward an amendment to parliament on Wednesday that will give MPs a vote on the Israel-Hamas war, the party has said.
The amendment will condemn the Hamas attacks on Israel on October 7, call for the immediate release of all hostages and "reaffirm Israel's right to defend its citizens from terrorism".
But it will also say there has been "far too many deaths of innocent civilians and children" in Gaza and call on Israel to protect hospitals and lift its blockade of the 25-mile strip.
Follow live: Braverman launches scathing attack on Sunak
The amendment will call for "longer humanitarian pauses" to deliver humanitarian assistance "on a scale that begins to meet the desperate needs of the people of Gaza", calling this "a necessary step to an enduring cessation of fighting as soon as possible".
It comes amid concerns some Labour MPs could be tempted to vote for a rival SNP amendment that would expose divisions within the party by going further and calling for a ceasefire.
Why does SNP want a ceasefire?

So far, Labour leader Sir Keir Starmer has consistently called for a humanitarian pause in the war for aid to reach Palestinians, but has rejected calls for him to demand a ceasefire.
A Labour spokesperson said their amendment "reaffirms the position" set out by Sir Keir and reflected the party's concerns regarding the status of Israeli hostages, the "insufficient" amount of aid and utilities entering and being distributed in Gaza, the scale of civilian casualties and the amount of violence on the West Bank.
The spokesperson hinted that if the House of Commons Speaker selects the party's amendment, Labour MPs will be ordered to abstain on the SNP amendment.
"We're not going to be engaging with the party political game-playing by the SNP in parliament," they said.
Labour has been divided over its approach to the conflict, with numerous backbenchers and shadow ministers calling for a ceasefire.
'Is ceasefire issue tearing Labour apart?'

But the leadership has stood by its own calls for so-called humanitarian pauses to allow aid and supplies to get into the Gaza Strip – echoing the position of the government.
The discord within Labour has been ramped up by the prospect of the SNP amendment being presented to parliament on Wednesday, giving all MPs an opportunity to vote in favour of a ceasefire – if it is selected by the Speaker.
Such a vote could highlight the level of upset on Sir Keir's backbenches, with rumours even shadow ministers could rebel against Labour's official position.
Labour insiders made it clear to Sky News' political editor Beth Rigby that if frontbenchers defied the party position and voted with the SNP, they would have to stand down.
Read more:
Grassroots Tories' fury at Sunak after Braverman sacking
Braverman's letter to Sunak in full – and PM's response
Shadow business secretary Jonathan Reynolds effectively confirmed this on Tuesday evening, telling the Politics Hub with Sophy Ridge: "We would expect people to vote for the Labour position. That's why we're putting the Labour position forward.
"Disciplinary issues are obviously for the chief whip and not for me to announce on television, but we would expect Labour frontbenchers to support the Labour position."
'We would expect Labour frontbenchers to support the Labour position'

One Labour source also told Sky News: "The order at the moment is if you're on the frontbench and you vote for [the SNP amendment] you won't be on the frontbench anymore."
Another party source said a number of shadow ministers may resign in advance, adding: "Maybe [a Labour amendment] will be enough for some, but it won't be enough for a lot."
But it doesn't appear to be stopping backbenchers from offering their support to the SNP motion.
Former shadow chancellor John McDonnell told Sky News: "I will be voting along with several colleagues for a ceasefire and therefore for the SNP amendment if no other is called by the Speaker.
"I don't think he will call any other but the SNP's so I will be voting for that."
SNP sources have said Wednesday's vote would not be a one-off, and they would keep up the pressure on Sir Keir and his MPs to back a ceasefire – drawing a dividing line between the two parties.