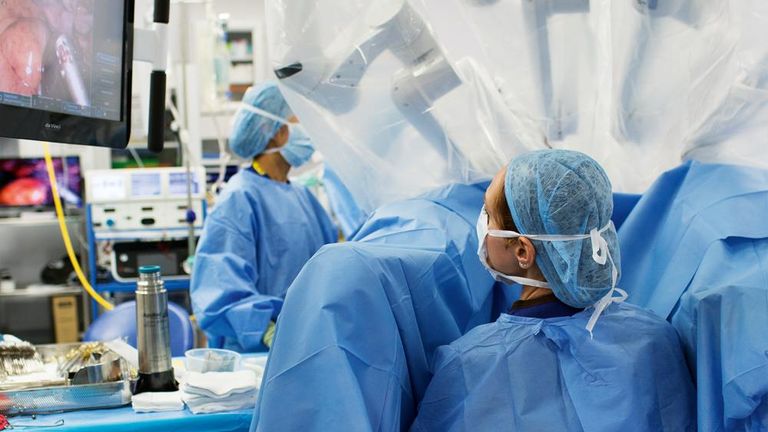 The NHS is using artificial intelligence to monitor people's eating and drinking habits in a bid to reduce "avoidable" hospital admissions ahead of a busy winter period.
Kettles and fridges are being tracked as part of a pilot scheme launched in Buckinghamshire.
Patients' habits are flagged to care teams who speak to them to try and solve their issues.
They can then be helped out in various ways including cleaning, shopping and having food parcels delivered.
Meanwhile in Somerset, four GP practices are trialling an AI system that highlights patients with complex needs, at risk of hospital admission or those who rarely contact the surgery.
Health workers then reach out to patients to offer preventative care such as escalating treatments to specialist doctors, introducing support to avoid patients falling over, or linking them up with local voluntary groups to help avoid loneliness.
And in Birmingham, the NHS is trialling a predictive algorithm to prevent thousands of hospital or GP visits, instead offering social care measures to those most at risk.
Over the next two years, the scheme is aiming to prevent 4,500 unnecessary trips to A&E, as well as 17,000 overnight hospital stays and 23,000 GP appointments.
Record waiting lists
The schemes come as NHS managers are worried about the quality of patient care and that the government's plans to cut waiting lists will be difficult to achieve.
The survey by NHS Providers found most of the leaders surveyed (95%) are concerned about how the health service will survive winter, with 80% expecting this year to be tougher than the last.
NHS England waiting lists have peaked with 7.77 million people waiting for an appointment – the highest since records began in 2007.
NHS England waiting list hits record high


Read more:
Six new medicines approved including first treatment for rare heart condition
Patient lost sight in eye due to health board's failings
The chief executive of NHS England, Amanda Pritchard said the NHS was equipped with a "suite of tech and data solutions" ahead of winter which "is likely to be incredibly challenging".
Ms Pritchard added: "NHS staff across the country are already feeling the pressure with record demand for A&E and ambulance services – and so these new innovations being rolled out by NHS teams are an extra and welcome addition to our winter toolkit, with more call handlers and more beds already in place."
To prepare the NHS for the most hectic time of the year measures were introduced including social care "traffic control centres" to help speed up hospital discharges, as well as having more ambulances on the road and extra hospital beds.
In September, the government announced a £200m boost to help the NHS attend to patients as quickly as possible.
Virtual wards are also on the rise. Patients with heart failure can now be seen at home by staff who use apps or wearable technology to monitor them remotely.