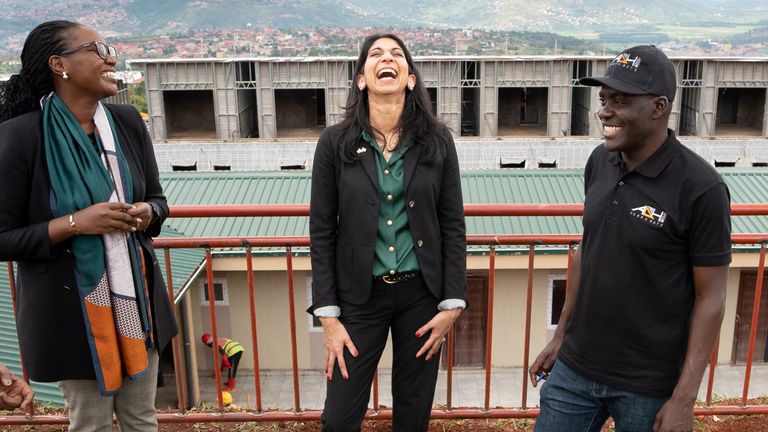 Robert Jenrick has vowed the government will do "whatever it takes" to implement its Rwanda deportation plan – following Suella Braverman's sacking as home secretary.
The immigration minister – who kept his job in Monday's dramatic reshuffle – said the government's plan "must" go through, "no ifs, no buts".
However, the policy faces a make-or-break decision on Wednesday when the Supreme Court will rule on whether the plans are lawful.
Speaking to The Daily Telegraph during a visit to Bulgaria, just hours after Ms Braverman's sacking, he said: "Be assured that as a prudent government, we have been thinking through what further steps we could take.
"I worked closely with the former home secretary on various options. But at the heart of this is the deep conviction that you have to inject deterrence into the system.
"We must ensure the Rwanda policy succeeds before the next general election. No ifs, no buts, we will do whatever it takes to ensure that happens."
Politics latest – 'I have one job now,' Cameron says after shock return
Click to subscribe to the Sky News Daily wherever you get your podcasts
Mr Jenrick did, however, concede that the government would struggle to achieve its goal of stopping small boat crossings in the English Channel if their plans to send asylum seekers to Rwanda were deemed unlawful.
Asked whether the boats could be stopped without the Rwanda policy, Mr Jenrick replied: "No."
The deal – signed by Ms Braverman's predecessor Priti Patel, but later championed by the now former home secretary – would see some asylum seekers sent to Rwanda to claim asylum there.
Read more:
Suella Braverman will be a 'force to be reckoned with' after being sacked
Analysis: Tory party's most divisive politician is out of government
Last month, the Home Office challenged a Court of Appeal ruling from June that the multimillion-pound deal was unlawful.
The Illegal Migration Act brought into law the government's policy of sending some asylum seekers to Rwanda, but because of the legal wrangling, no deportation flights having taken place.
The first planned flight to Rwanda in June 2022 was grounded minutes before take-off following a ruling by a judge at the European Court of Human Rights in Strasbourg.
As a result, Mr Jenrick has not removed the possibility of the UK's exit from the European Convention on Human Rights – a move which Prime Minister Rishi Sunak has repeatedly refused to rule out.