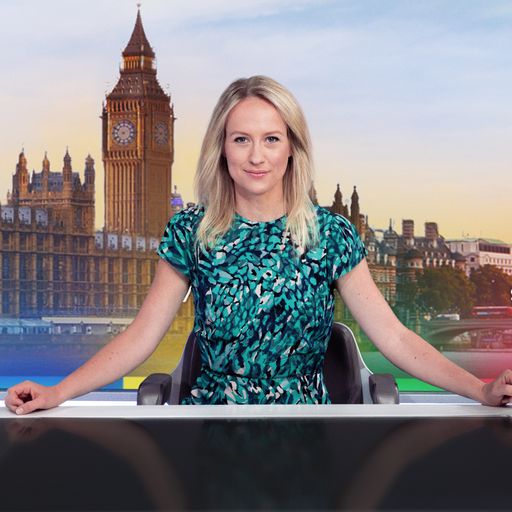 Pressure is mounting on Rishi Sunak to sack Suella Braverman after she was accused of stoking tensions ahead of Armistice Day violence.
The home secretary's current job hangs in the balance with speculation rife in Westminster that Mr Sunak could carry out a ministerial reshuffle as soon as this week.
It comes as reports suggest the prime minister wants to strengthen protest laws to make it easier to ban marches.
Follow latest: Braverman hits out at 'sick' and 'clearly criminal chants' at pro-Palestinian march
Politics Hub with Sophy Ridge
Sky News Monday to Thursday at 7pm.
Watch live on Sky channel 501, Freeview 233, Virgin 602, the Sky News website and app or YouTube.
Speaking to Sky News on Monday morning, armed forces minister James Heappey became the latest minister to distance himself from Ms Braverman's controversial comments about the Met Police last week.
He said that "there has been too much second guessing of the Metropolitan Police by politicians on the media"
Mr Heappey added he would not have used the words Ms Braverman did – echoing Defence Secretary Grant Shapps and Chancellor Jeremy Hunt.
But despite the Ms Braverman's words, Mr Heappey said "EDL thugs were organising their protests well before the home secretary published her article".
Mr Sunak is also looking to make it easier to prosecute those glorifying terrorism, according to several newspaper reports.
Sunak's Braverman dilemma: What's more important – being right or being strong?
Until the formal confirmation of a reshuffle, we won't know for sure whether Rishi Sunak intends to oust his home secretary Suella Braverman on a charge, effectively, of disobedience.
We do know, however, it has been discussed. And we don't know the resolution yet.
One Whitehall source put the odds as high as 90% on Sunday afternoon that it would be a Monday reshuffle, although – despite the punchy prediction – we really don't know.
But what we are sure about is the arguments behind, rehearsed at the top of government for and against.
His crackdown could see laws around fireworks, smoke bombs and flares tightened and new laws to prevent protesters climbing on statues, according to The Sun.
He will also urge police to immediately arrest protesters seen using antisemitic slogans, according to The Times.
Mr Sunak has said both far-right "thugs" and "those singing antisemitic chants and brandishing pro-Hamas signs and clothing" must face "the full and swift force of the law".
Around 300,000 pro-Palestinian protesters marched through central London over the weekend calling for a ceasefire in the Israel-Hamas conflict.
More than 140 activists and counter-protesters were arrested in the disorder that followed, as far-right groups and breakaway pro-Palestinian supporters clashed with Metropolitan Police officers.
Far-right protesters and police clash

Bottles were also thrown at police by the counter-demonstrators, many of whom were wearing masks, while a breakaway group of pro-Palestinian protesters wearing face coverings launched fireworks at officers.
The Met Police said that while the pro-Palestinian march did not see the sort of violence carried out by far-right groups, investigations into serious offences relating to antisemitism and hate crimes continue.
The force has released images of protesters they are looking to identify "in relation to a hate crime".
Click to subscribe to Politics at Jack and Sam's wherever you get your podcasts
Ms Braverman meanwhile has doubled down on calls for pro-Palestinian protests to be stopped as she warned that London's streets are "being polluted by hate, violence and antisemitism" and hit out at "sick" chants and placards at Saturday's march.
Some have accused Ms Braverman of inflaming tensions over the weekend, leading to more people descending on the capital.
Read more UK news:
Red warnings issued ahead of arrival of Storm Debi
Teenage victim of Birmingham shooting named
In an article she authored in The Times last week, she accused the Met Police of holding "double standards" on how it handles controversial protests by showing a more lenient attitude to left-wing protesters than their right-wing counterparts.
Shadow home secretary Yvette Cooper blamed the unrest on Ms Braverman's "appalling and unprecedented attack" on the police's impartiality and her "deliberate" stoking of tensions.
Mr Sunak has said he will hold the chief of the Metropolitan Police "accountable" for allowing the pro-Palestinian demonstration to go ahead on Armistice Day.
He looks set to press Metropolitan Police Commissioner Sir Mark Rowley to avoid a repeat of Saturday's ugly scenes in London when he meets the police chief in the coming days.