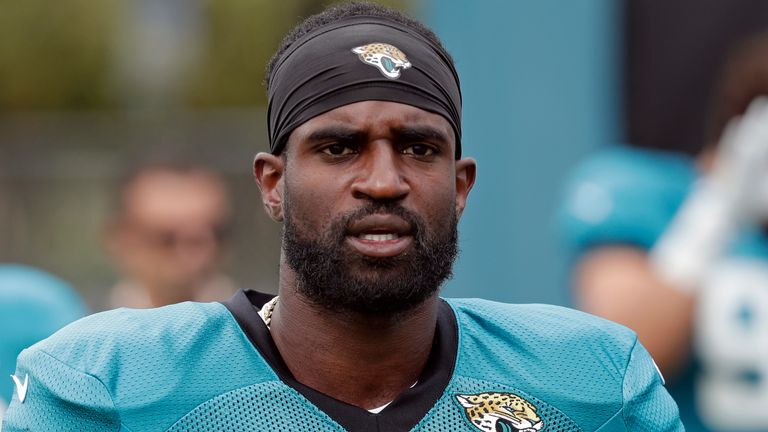 A former American football player has been killed in a car crash in Houston.
D J Hayden, 33, was among six people who died in the incident which happened when a Chrysler 300 allegedly sped through a red light and collided with an SUV early on Saturday, police said.
Ex-NFL cornerback Hayden played for teams including the Oakland Raiders, Detroit Lions and Jacksonville Jaguars during the years 2013 to 2020.
Most recently he was part of the Washington Commanders in 2021. He was born in Houston and had starred at the University of Houston.
Five men and one woman died in the crash in central Houston at about 2am local time (8am UK time).
Three of the university's former football players died – Hayden, his ex-teammate, cornerback Zach McMillian, and Ralph Oragwu. A fourth former university football player was injured.
"The entire University of Houston community is heartbroken over the tragic passing of former football student-athletes D J Hayden, Zachary McMillian and Ralph Oragwu earlier today, and our thoughts and prayers remain with Jeffery Lewis in his recovery ahead," University of Houston Athletics said in a statement.
It added the men who died were "three individuals who made an indelible impact on each life they touched".
The victims included the driver of the Chrysler and a man who appeared to be homeless, according to police.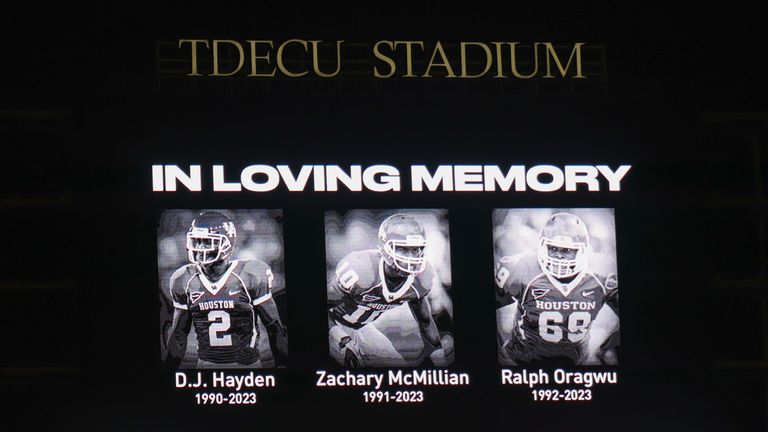 Hayden 'fondly remembered'
The Las Vegas Raiders, formerly the Oakland Raiders, said in a statement: "D J's courage, perseverance, and dedication to his teammates will be fondly remembered by everyone who knew him."
"The prayers of the entire Raider Nation are with D J's loved ones at this time," they added.
The Chrysler "appears to be going very fast, high velocity," Houston Police Assistant Chief Megan Howard said.
Four people were pronounced dead at the scene.
Four others were taken to hospital, where two of them died and a female passenger was in critical condition with life-threatening injuries, Ms Howard said.
Officers said they had spoken to a male passenger from the SUV and that investigators were working to identify the driver of the SUV.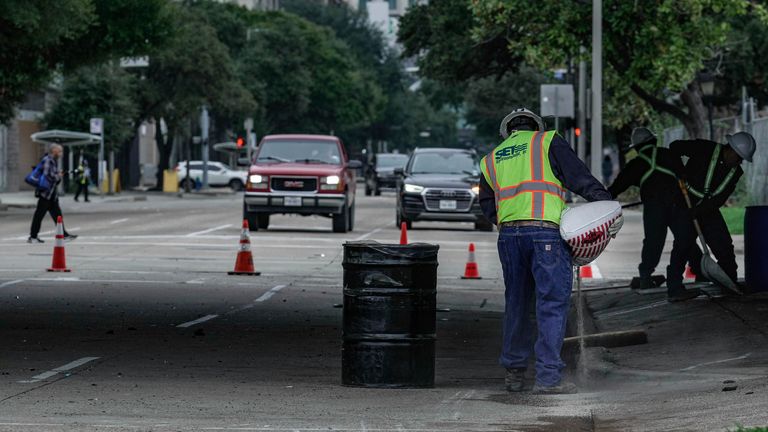 Read more from Sky News:
Tim Minchin pays tribute after announcing his mother's death
Five US service members killed after aircraft suffers 'mishap'
Hayden survived a near-death experience in 2012, when he suffered a tear to a major vein by his heart after colliding with a teammate during practice.
He was discharged from hospital just a week after having emergency surgery and was then selected for the Oakland Raiders in the 2013 draft.