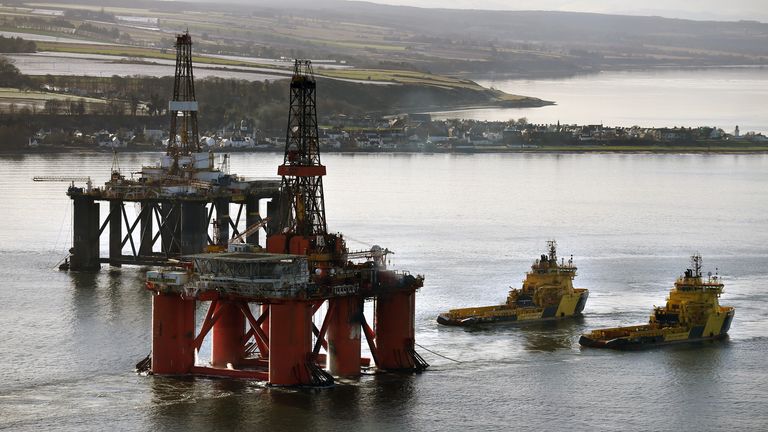 Fuel retailers have dismissed claims that drivers are being overcharged following a surge in pump prices.
Data released by the RAC on Wednesday showed an 8p per litre surge in the cost of diesel last month to a new average of 163.1p.
Petrol prices rose by nearly 5p per litre to 157p.
The motoring group blamed the continued hikes on production cuts agreed by the Opec+ group of oil-producing nations, which have helped send Brent crude oil costs up since July.
A barrel stood at around $72 then.
It has nudged towards $100 in recent weeks and currently stands at $90, placing greater upward pressure on inflation more widely as the additional bills only add to the cost of living crisis.
'Constrained' oil supply in the coming months
Because oil is priced in dollars, a weakening of the pound against the US currency has also contributed to the additional bills at the fuel pump.
The RAC, however, claimed that retailers were overcharging petrol customers.
Its fuel spokesman, Simon Williams, said: "Our analysis of RAC Fuel Watch wholesale and retail data shows that petrol is currently overpriced by around 7p a litre, although the price of diesel is likely to go up further still in the coming weeks.
"It's worrying that retailer margin across the UK is higher for petrol than it should be considering the big four supermarkets were told off by the Competition and Markets Authority for overcharging drivers by £900m in 2022.
"While many have voluntarily started to publish their prices ahead of being mandated to in law, we still have a situation where wholesale price changes aren't being fairly reflected on the forecourt."
Read more:
Cost of living latest
July: 'Motorists are not getting the best deal possible'

The RAC's conclusion was dismissed by the Petrol Retailers Association (PRA) which represents independent forecourts and has almost two-thirds of the market.
Its executive director Gordon Balmer said: "Contrary to claims made by the RAC, our members are not unjustifiably pricing petrol higher than needed.
"Fuel margins have been under pressure due to increased operational costs that our members have had to bear.
"To address rising labour expenses, energy costs, and the highest inflation rates in recent years and reduced fuel sales, margins have inevitably increased.
"Attempting to whip up public anger by suggesting otherwise is deeply irresponsible."
He added: "The PRA remains committed to advocate for our members and promote transparency within the sector.
"We are willing to engage with any mediator to facilitate a constructive and informed dialogue on these critical issues."