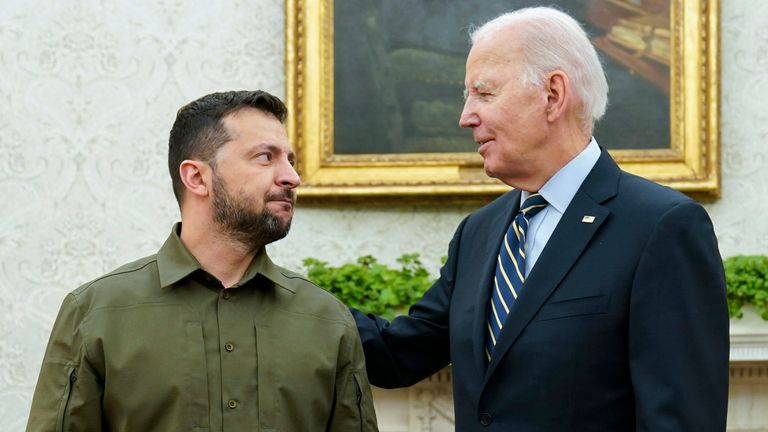 They have a catchy name. They're called "attack'ems".
It's a play on an acronym, ATACMS, which itself stands for Army Tactical Missile System.
To you and me it's a long-range missile.
It has a range of about 180 miles, it's guided, it can be fired from Ukraine's existing fleet of missile launch systems and President Zelenskyy's battlefield commanders have been asking for it for some time.
Sources here in Washington have confirmed to me that America will provide a small number of the ATACMS to Ukraine soon.
Used tactically, they could hit Russian supply lines and command/control locations in Russian-occupied eastern Ukraine.
Ukraine war latest: One missing after strike on Russia's Black Sea fleet
Ukraine already has Storm Shadow cruise missiles which have a longer range than the ATACMS. But these must be launched from fighter jets. They require good weather and a capable air force. Ukraine is short of fighter jets.
The ATACMS can be launched from the ground in all weather at a point closest to the frontline beyond which the target is. This is tactically advantageous.
America had a number of concerns about supplying the ATACMS to Ukraine.
First, the enduring concern over how Russia would respond to ever-more sophisticated Western weaponry on the battlefield, especially if the weapons were capable of striking within Russia itself.
Given the positions of the current frontline and the range of the ATACMS, it would be a push for them to hit Russian territory.
The second particular concern with the ATACMS is supply. It's understood that the American stock of the missile is not at a level which makes US officials feel entirely comfortable about handing a whole load of them over to Ukraine.
Read more:
Analysis: Pressure is mounting for Zelenskyy
Why Poland's unwavering support has reached breaking point
US to send weapons to Ukraine

Some dormant variants of the weapon may be more available, and we know too that an order was given in the last 'National Defence Authorisation Act' to procure and produce nearly 2000 more ATACMS – perhaps to backfill supply given to Ukraine.
There is an interesting dichotomy emerging in American politics when it comes to Ukraine.
On the left, among Democratic Party politicians, there is overwhelming support for continued financial and material support for Ukraine.
The dichotomy lies on the right. Some within the Republican Party, a vocal minority deeply aligned with Donald Trump, oppose all funding for Ukraine which they inaccurately say comes in the form of 'blank cheques'.
Others, from the more traditional core of the Republican Party, argue that the battlefield stalemate and the concerns of the Trumpian caucus could all have been avoided if President Biden provided all the weaponry needed much earlier.
But of course, we'll never know how President Putin would have responded if the West had laid all their weapons on for Ukraine to use at the start of this bloody war.