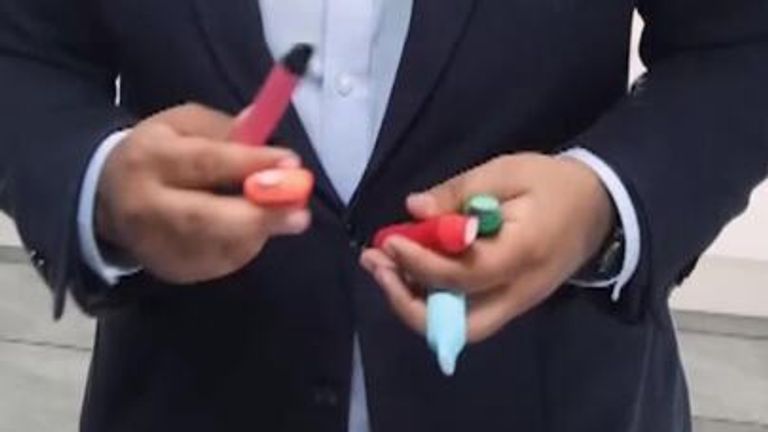 Rishi Sunak is considering a recommendation that would effectively ban cigarettes for the next generation.
The prime minister could introduce some of the world's toughest anti-smoking measures by steadily increasing the legal age for consuming tobacco, according to The Guardian, citing Whitehall sources.
The paper said it also understood Mr Sunak's leadership pledge to fine people £10 for missing a GP or hospital appointment could be under consideration once more.
Downing Street did not deny Mr Sunak was considering adopting a more stringent approach to smoking.
Last year a major review led by Dr Javed Khan backed England following New Zealand's plan to impose a gradually rising smoking age to prevent tobacco being sold to anyone born on or after 1 January 2009.
Dr Khan recommended "increasing the age of sale from 18, by one year, every year until no one can buy a tobacco product in this country".
Could single-use vapes be banned by 2024?

If implemented by 2026, it would mean anyone aged 15 and under now would never be able to buy a cigarette.
However, health minister Neil O'Brien appeared to reject adopting that approach in April, when he said the government's policy for achieving a smoke-free nation by its 2030 target would focus on "helping people to quit" rather than applying bans.
But it is now understood Mr Sunak is looking at different policy advice on how to reach England's smoke-free target.
In his government-commissioned report published in June 2022, Dr Khan said without urgent action England would miss the 2030 target by at least seven years, with the poorest areas not meeting it until 2044.
He put the annual cost to society of smoking at about £17bn – £2.4bn to the NHS alone.
Read more:
Sunak's popularity at lowest point ever after net zero announcement
Starmer insists UK will not be a 'rule-taker' after backlash over stance on EU
'Smoking is a deadly habit' – government
A government spokesperson said: "Smoking is a deadly habit – it kills tens of thousands of people each year and places a huge burden on the NHS and the economy.
"We want to encourage more people to quit and meet our ambition to be smoke free by 2030, which is why we have already taken steps to reduce smoking rates.
"This includes providing one million smokers in England with free vape kits via our world first 'swap to stop' scheme, launching a voucher scheme to incentivise pregnant women to quit and consulting on mandatory cigarette pack inserts."
The legal age for buying cigarettes and other tobacco products in England and Wales is 18, having been raised from 16 in 2007 by the previous Labour government.