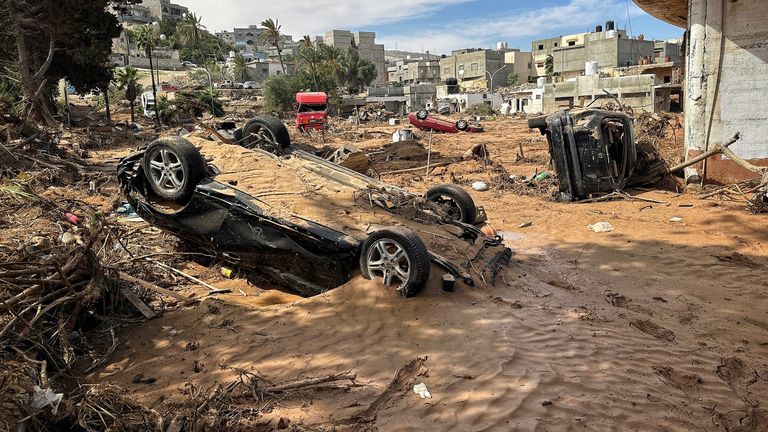 The aid effort in the flood-ravaged city of Derna in east Libya has ramped up considerably in the past 48 hours. But while there are increased numbers of people on the ground helping, much of it still seems a frenzied, chaotic mess.
The humanitarian relief work might have stepped up a gear more than a week on from the massive disaster but now the aid teams are scrambling to prevent another disaster – that of the spread of disease.
We saw groups handing out masks and plastic gloves to people after warnings that the putrefying corpses still being recovered could spread disease. The water is thought to be heavily contaminated and large sections of the city centre have been left with no water or electricity.
The accelerated activity comes after days of mounting criticism about the relief operation being slow and uncoordinated. Now the gutted city is much busier with scores of teams on site and the main route into and out of the devastated centre is clogged with vehicles. Most we saw were Libyans – from all parts of the fractured country.
We spotted a group of young men from Benghazi, dressed in hazmat suits and wearing respirators.
"There's no actual way to describe (what's happened) and to talk about it," one told us: "You are lost for words… it's an absolute catastrophe."
Many of the teams are still involved in trying to locate and retrieve the bodies of those who didn't survive the violent flooding.
About 10,000 people are still unaccounted for.
Libyan National Army commandos were on a charm offensive with us, inviting us to film them pitching in with the aid fort.
Captain Hamza Adia told us how the troops – like their civilian brothers and sisters – had been deeply affected by the tragedy.
"We are here and helping retrieve the dead bodies.
"All of us are brothers – my guys are here and we're ready to give everything – even if that costs us our lives."
Many civilians have been heavily critical about what they say is the lack of any substantial effort on the part of the military to help out with the relief work.
The military strongman effectively in charge of the east, Khalifa Heftar and his sons, have been accused of trying to bolster their power here rather than distribute humanitarian aid.
Read more:
Before and after pictures show devastation of Libya floods
Huge aid package including body bags arrives in Libya
Libya's recent history dating back to the 2011 NATO-backed military campaign to topple the long-time dictator Colonel Gaddafi, has meant the country has been fraught with problems ever since.
The ousting of Colonel Gaddafi led to a power vacuum which was filled by competing militia and resulted in rival authorities controlling the east and west as well as the outbreak of a bitter and violent civil war.
The instability allowed the Islamic State to take over territory including Derna in 2014. General Khalifa Heftar who was a soldier in Gaddafi's military imposed a siege on the city to try to "starve" the IS militants into submission.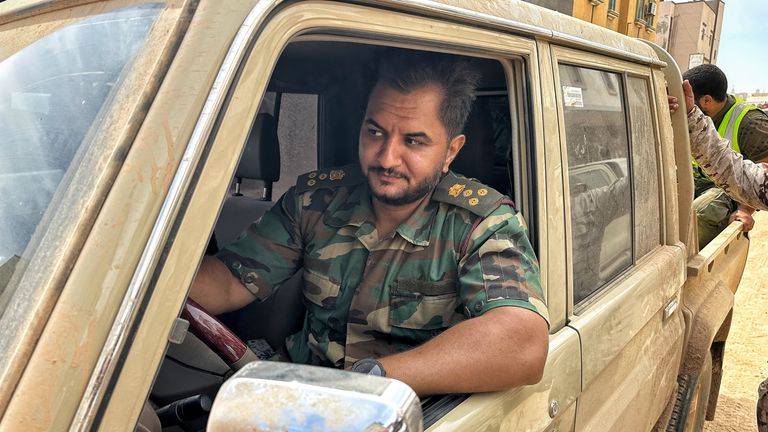 He claimed the credit for eventually pushing them out although Derna residents remember events differently, insisting it was an anti-Heftar group of tribes who reclaimed their city for them. Heftar has maintained a focused eye on Derna ever since.
We spoke to his youngest son, General Saddam Khalifa, who is considered his father's most likely successor and who we've spotted touring the devastated city over the past few days.
Almost every Libyan you speak to at the moment will tell you of the need for much more aid from outside the country to help them cope with this huge disaster. But if General Khalifa agrees with this sentiment, he's reluctant to talk too much about it when Sky News spoke to him.
"Has the international response been adequate?" I ask him – but he's clearly a very reluctant interviewee. His face is a picture of irritation with me.
"It's fine for now," he replies. "Yes, we need help but the rescue teams are doing their job."
He is the man in charge of the Disaster Response Committee and responsible for the coordination of the relief effort as well as the international rescue crews.
Click to subscribe to the Sky News Daily wherever you get your podcasts
He is also likely to be in charge of any inquiry into how the city's two dams both collapsed when Storm Daniel hit Libya.
The disintegration of the dams unleashed an avalanche of water which smashed through Derna like a powerful tsunami wrecking about an estimated quarter of the centre and killing thousands. The dams' collapse is being blamed on poor maintenance over more than a decade.
Read more:
Libya flood damage revealed
Huge aid package arrives in Libya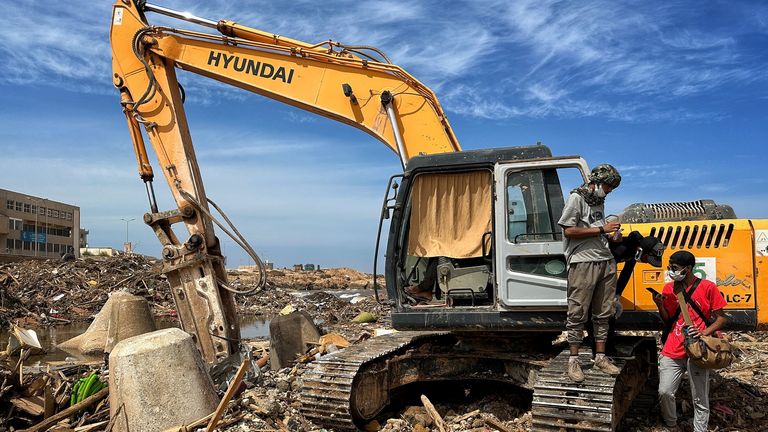 But the younger Khalifa refused to countenance any suggestion there'd been neglect or wrongdoing – certainly at the top of the country's eastern power base which, given the family's stranglehold on all affairs here, would include himself, his father and his brothers.
I mention this criticism over the disaster and ask if the disaster could have been prevented. Many Derna residents say the lack of investment in the infrastructure – including not upgrading the two dams.
There had been multiple warnings that the dams urgently needed this. "What's your view on that," I ask.
He gives that question short shrift… "All is ok,' he tells me.
"I have no criticism." And with that, he indicates with a hand gesture that this brief interaction is over.
Alex Crawford was reporting from Derna in east Libya with cameraman Jake Britton and producer Chris Cunningham.