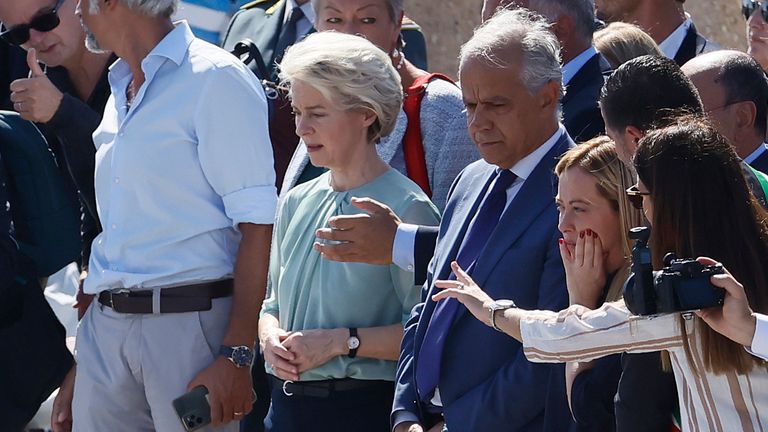 Italian leader Giorgia Meloni has demanded Brussels step up to help her country deal with a surge in migrants.
The country's prime minister said it was not a question of "solidarity" but the European Union's "responsibility" to assist – after more than 11,000 people arrived on Italy's southernmost island of Lampedusa in less than a week, overwhelming the authorities and sparking protests by residents.
She made her comments as she was joined on the island for crisis talks by European Commission President Ursula von der Leyen, who insisted "we are in this together".
But Sky News' international correspondent John Sparks reported the area had been "sanitised" for the visit and the chaotic, overcrowded reception centre cleaned and cleared of many migrants.
TV images showed Ms Meloni speaking to islanders expressing their frustrations with the current situation.
She told them the government was working on a robust response, including a €50m (£43m) to help the island, but a heckler in the crowd said it was not just money needed.
In the face of the current emergency, Ms Meloni has pledged tougher measures and renewed calls for a naval blockade of North Africa to stop the boats from getting through – after a newborn baby was found dead on a migrant boat.
Speaking at a news conference, she said: "I would like to repeat that I do not consider this a gesture of solidarity of Europe towards Italy, I consider it instead a gesture of responsibility of Europe towards itself because these are the borders of Italy but they are also the borders of Europe."
Ms Meloni added: "If someone in Europe thinks that facing the global crisis that we are facing, the question could simply be resolved by closing it inside the Italian borders, they would clearly be blind."
Meloni answers question from Sky News

Ms von der Leyen said: "Irregular migration is a European challenge and it needs a European answer, so we are in this together.
"Prime Minister Meloni and I are here today to offer a coordinated response by the Italian and European authorities.
"I want to be very clear we have an obligation as part of the international community. We have fulfilled it in the past and we will do so today and in the future.
"But we will decide who comes to the European Union and under what circumstances."
Read more from Sky News:
Plane crash kills 14 in Amazon
Ukraine says British missile 'worked perfectly'
Parents hold kids as survivors plagued by nightmares
The problem has become a major headache for Ms Meloni, whose right-wing government has pledged to curb illegal immigration.
Nearly 126,000 migrants are reported to have arrived in Italy this year, almost double the figure by the same date in 2022.
It has parallels to the situation facing the UK in stemming migrant crossings from France, with Rishi Sunak under pressure to deliver on his "stop the boats" pledge.
The Labour leader, Sir Keir Starmer, told Sky News on Sunday Tory claims about his party's plans to stop illegal boat crossings were "complete garbage" – with the issue set to be an election battleground next year.
Lampedusa – closer to Africa than the Italian mainland – has recently borne the brunt of crossings from Tunisia, which has replaced Libya as the main migrant smuggling base.