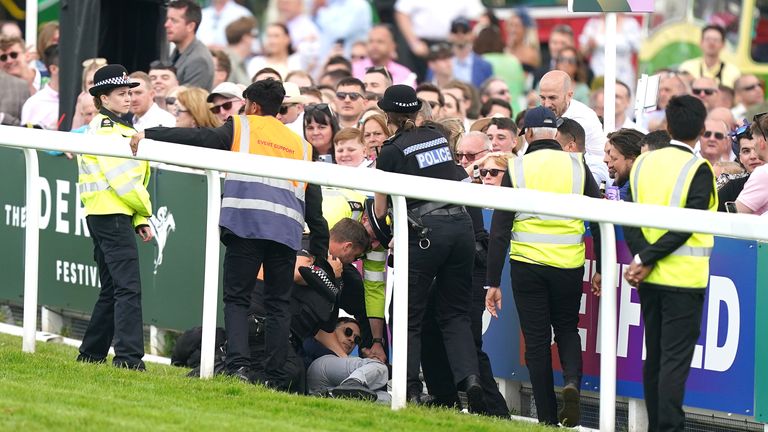 A protester has been detained by police after running on the racecourse at the Epsom Derby.
Another protester was also detained at the racecourse – a woman who attempted to get on the track before being pulled to the floor by police.
It comes after 19 people were arrested this morning over plans to disrupt the event.
Sky's Becky Cotterill, who was at Epsom, said: "I could see there was a guy that appeared to run onto the track and was quickly removed by security guards.
"The race had started at that point, but they seemed to get him off the track without causing any disruption to the race, so the horses carried on."
Sky News has contacted Surrey Police for more information.
Animal Rising had warned it would attempt to sabotage the event despite a High Court injunction.
Surrey Police said 11 people were arrested at addresses in Mitcham and Byfleet in the early hours, while eight people were also arrested around 10.20am after a vehicle was stopped in Burgh Heath, just south of Epsom.
All were arrested on suspicion of conspiracy to commit public nuisance and remain in police custody.
Dan Kidby, co-founder of Animal Rising, said the police operation was intended "to protect the interests of a multi-billion pound industry" and that "a horse dies every other day in racing".
The group also accused police of "heavy-handedness" and "overreach", referencing updates to the Public Order Act which give officers new powers to crack down on some protests.
Surrey Police Superintendent Michael Hodder said: "We have been clear in our approach that criminal activity will not be tolerated at the Epsom Derby Festival.
"As a result of intelligence, we have arrested 19 people who we believe were intent on illegally disrupting today's events.
"Our officers will be at the event throughout the day to continue in keeping the public safe and preventing criminality."
Animal Rising confirm protests at Epsom Derby

Surrey Police had said it would not tolerate any risk to public safety and that anyone who took part could be subject to contempt of court proceedings, fined or jailed.
An injunction sought by the Jockey Club during the week banned people from going on the race course and carrying out acts with intent to disrupt the races.
There was disruption in April when protesters managed to delay the start of the Grand National by around 10 minutes after they managed to get on the track.