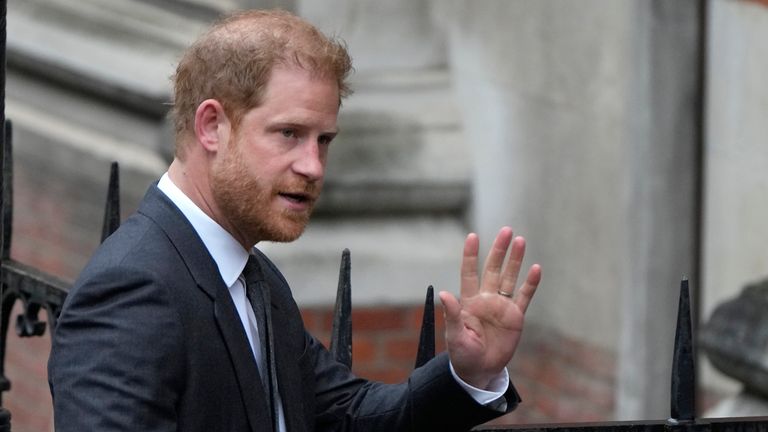 Prince Harry has said the Royal Family withheld information from him about phone hacking because they didn't want him to bring a claim as it would "open a can of worms".
In a witness statement submitted before his civil claim against Daily Mail publisher Associated Newspapers, the Duke of Sussex said that he was "conditioned to accept" his family's rule to "never complain, never explain" when dealing with the press.
But discussing phone hacking claims against News Group Newspapers, Harry said "I became aware that I had a claim that I could bring" in 2018.
Prince Harry v Daily Mail publisher – latest
"The Institution [Royal Family] was without a doubt withholding information from me for a long time about NGN's phone hacking and that has only become clear in recent years as I have pursued my own claim with different legal advice and representation," he said.
The prince is among a group of claimants, including Sir Elton John, Liz Hurley and Sadie Frost, against Associated Newspapers accusing them of numerous breaches of privacy. The publisher denies all the allegations.
Speaking about how he found out other people within or associated with the Royal Family had brought phone hacking claims against the press, he says: "It is not an exaggeration to say that the bubble burst in terms of what I knew in 2020 when I moved out of the United Kingdom."
Prince Harry attends court

He went on: "There was never any centralised discussion between us about who had brought claims as each office in the Institution is siloed.
"There is this misconception that we are all in constant communication with one another but that is not true."
The prince added: "The Institution made it clear that we did not need to know anything about phone hacking and it was made clear to me that the Royal Family did not sit in the witness box because that could open up a can of worms."
He went on to say the Royal Family's "strict no comment policy" meant that "even the worst or most suspicious articles were often never brought to my attention."
Ending his written statement to the court, Prince Harry said he was "bringing this claim because I love my country and I remain deeply concerned by the unchecked power, influence and criminality" of the publisher.
"The British public deserve to know the full extent of this cover up and I feel it is my duty to expose it," he added.