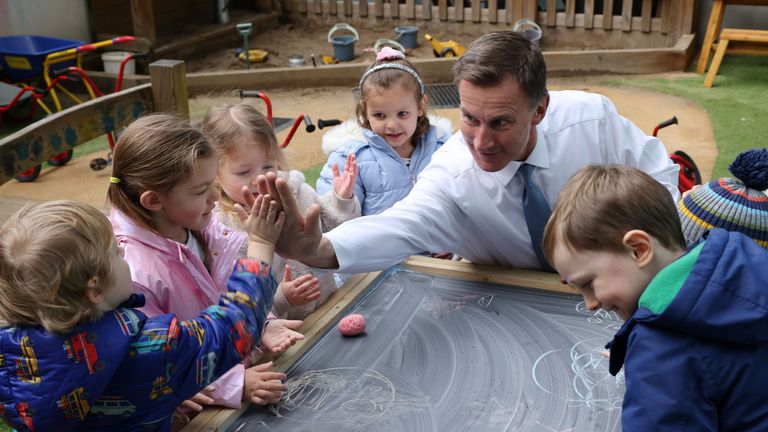 Chancellor Jeremy Hunt has defended the speed of the rollout for his budget offer of free childcare for working parents, describing it as the "biggest transformation in childcare in my lifetime".
The new childcare package will see working families having access to 30 hours of free childcare per week for children aged between nine months and four years old, where all adults in the household work at least 16 hours.
The policy had previously only applied to the parents of three and four-year-olds.
But the scheme will not come in until 2024, and the start date could fall after the next general election.
Budget news – latest: Chancellor Jeremy Hunt speaks to Sky News
Challenged by Sky News' Jayne Secker on the speed of the measures, Mr Hunt defended his plans, saying: "This is the biggest transformation in childcare in my lifetime.
"It's a huge change and we are going to need thousands more nurseries, thousands more schools offering provision they don't currently offer, thousands more childminders.
"We are going as fast as we can get the supply in the market to expand."
The offer of free childcare for working parents will be available to those with two-year-olds from April 2024, covering around half a million parents, but it will initially be limited to 15 hours.
From September 2024, the 15-hour offer will be extended to children from nine months, helping a total of nearly a million parents, and the full 30-hour offer to all under-fives will come in from September 2025.
Are parents the big budget winners?

The chancellor said it was "the right thing to do because we have one of the most expensive childcare systems in the world".
He added: "We know it is something that is a huge worry, for women in particular, that they have this cliff-edge when maternity leave ends after nine months, no help until the child turns three and that can often be career ending.
"So I think it is the right thing to do for many women, to introduce these reforms and we are introducing them as quickly as we can because we want to remove those barriers to work."
Read more:
Pints, child support and pensions: Budget 2023 at a glance
Budget 2023 calculator: See if you are better or worse off
Labour to reverse 'tax cut for rich' pension reform if it wins next election
Mr Hunt also defended his planned changes to pensions, namely scrapping the lifetime pensions allowance, which will get rid of the £1m limit, after which workers pay tax on their pot.
Labour called it "a Tory tax cut for the rich", saying it would only benefit the top 1% of earners, and said they would oppose it in Parliament.
But the chancellor insisted it would tackle the "big problem" of doctors leaving the NHS and in turn help reduce record high waiting lists.
He also insisted the budget was helping everyone with the cost of living crisis – pointing to the freeze in the energy price cap at £2,500 – while also tackling "the long term issues facing the economy… removing the barriers that stop people working".
However, both the SNP and Liberal Democrats said the energy measures did not go far enough, calling for the government to cut bills for households.
MPs will continue to debate the budget in the Commons this afternoon and there could be disquiet from Mr Hunt's own backbenchers after he decided to keep the planned rise in corporation tax up from 19% to 25% – and did not offer further tax cuts as some Tory MPs demanded.
Former government ministers Priti Patel, Jacob Rees-Mogg and Ranil Jayawardena all called on the chancellor to review his tax decisions in the coming months.