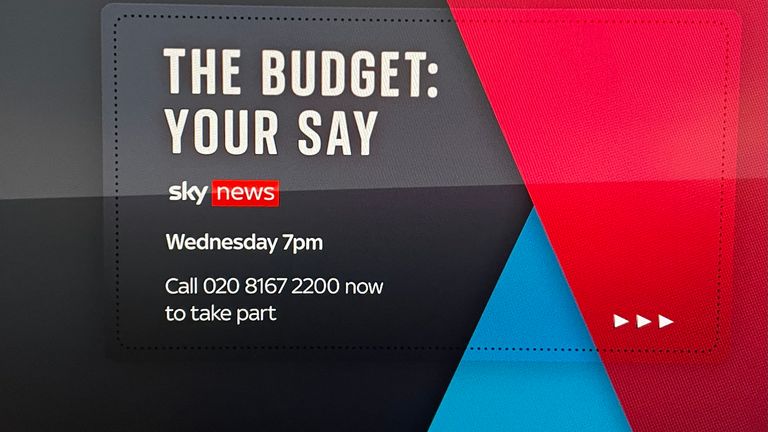 Jeremy Hunt said the British economy is "proving the doubters wrong" and will avoid recession, as he delivered his first full budget speech to Parliament.
The chancellor said the government's plan for the economy was "working" as he announced what he called a "budget for growth".
Despite continuing global instability, the Office for Budget Responsibility (OBR) reported today that inflation in the UK would fall from 10.7% in the final quarter of last year to 2.9% by the end of 2023.
Mr Hunt said it showed Rishi Sunak's goal of halving inflation this year would be met, but he added: "We remain vigilant and will not hesitate to take whatever steps are necessary for economic stability".
The chancellor told the Commons: "In the face of enormous challenges I report today on a British economy which is proving the doubters wrong.
"In the autumn we took difficult decisions to deliver stability and sound money. Since mid-October, 10-year gilt rates have fallen, debt servicing costs are down, mortgage rates are lower and inflation has peaked.
"The International Monetary Fund says our approach means the UK economy is on the right track."
Politics live: Hunt delivers spring budget in the Commons
A number of measures announced by the chancellor had been revealed ahead of his speech, including keeping the cap on energy prices at £2,500 for a further three months, despite a planned rise to £3,000 in April.
Sky News also reported last night his promise to provide 30 hours of childcare a week to parents of one and two-year-olds, and to give a further cash injection to the sector to increase the availability of existing free childcare for three to four-year-olds.
Today's statement was Mr Hunt's first full budget as chancellor – having been brought in by Liz Truss to reverse a number of measures from her disastrous mini-budget last October and kept on by Rishi Sunak after he took over as prime minister.
It came against a backdrop of mass industrial action, with hundreds of thousands of workers today staging what is believed to be the biggest walkout since the current wave of unrest began.
Teachers, university lecturers, civil servants, junior doctors, London Underground drivers and BBC journalists are among those taking to picket lines around the country amid widespread anger over pay, job security, pensions and conditions.
Labour's shadow chancellor, Rachel Reeves, said ahead of the budget that it was "an opportunity for the government to get us off their path of managed decline".
She added, if her party were in power, their focus would be on securing the highest growth in the G7.
"Our plan will help us lead the pack again, by creating good jobs and productivity growth across every part of our country, so everyone, not just a few, feel better off," she added.
Our politics, business and finance reporters will be hosting a Q&A after the budget statement. To submit a question, click here.