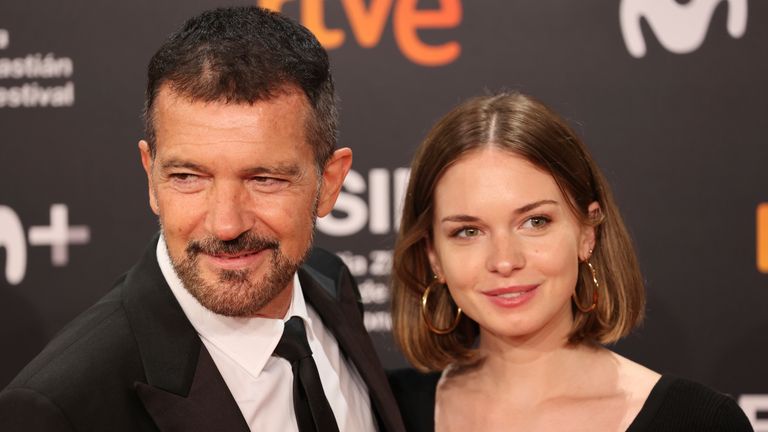 It's almost two decades since cinema audiences were introduced to Antonio Banderas as Puss In Boots.
The deadly yet adorable animated cat first appeared in Shrek 2 in 2004 and went on to star in his own spin-off film in 2011.
Now, a sequel – Puss in Boots: The Last Wish – is in cinemas, and deals with themes not often associated with kids' films.
The story explores mortality, death and why we should appreciate what we have as the character learns he has just one of his nine lives left.
Banderas told Sky News that when he first became aware of the film's themes they seemed particularly timely.
"I was surprised because in a very strange way I found that the movie had to do with me more than I thought.
"The fact that I had a heart attack in 2017 and that made me kind of appreciate life in a different way," he explained.
"I read the script and I said 'Oh my god, I totally understand what my little cat is talking about and what the story is all about'.
"And then I also thought that it was done very elegantly, very carefully, because we know that our audiences are kids all around the world.
"But it's true that during the COVID time kids all around the world also [had] a lot of questions because of the confinement and the lack of friends and the lack of schools, and everybody's at home and what is happening out there.
"So it's interesting, the movies that are aimed at kids are kind of reflecting about the beauty of life and how much we should praise that – and so I thought it was beautiful and very intelligently done."
The Spanish actor, whose own daughter is an adult now, says he believes children are far more intuitive and resilient than they are often given credit for.
"We shouldn't underestimate kids because they are very smart and they receive way more than we think they receive," Banderas said.
"And they can't structure that if we don't help them… and [it] can have an effect later on in their lives.
"As a father I know that very early in their lives they see everything… So I think we freely can talk about these issues with them, knowing that if we do it carefully it can produce an effect on them that is positive."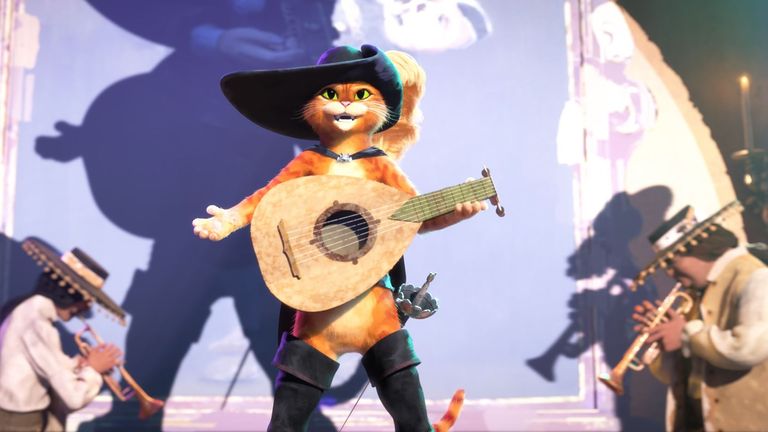 'Deeper and more suave'
Banderas said that when he was initially approached about the character 20 years ago, he was asked to make his own voice "thinner" to match the stature of the small animal.
But it was he who suggested that instead he went deeper and more suave, creating the voice that Puss is now known for.
"When you have the little body of this little cat, you put a voice like that and the contrast is what really made the comedy work," Banderas explained.
"I remember the response that we had at the Cannes Film Festival … All the intellectuals from all around the world – from Korea, from Russia, from everywhere – just laughing.
"It was an extraordinary experience just to see the power of comedy and the power of this little animated character that we all created, because it's a creation. I feel, actually, that it's not only that I put the voice – what made me really proud is that I collaborated to create it."
While the film has only just been released in the UK, it's already been a huge success in the US and other territories, grossing more than £300m at the box office.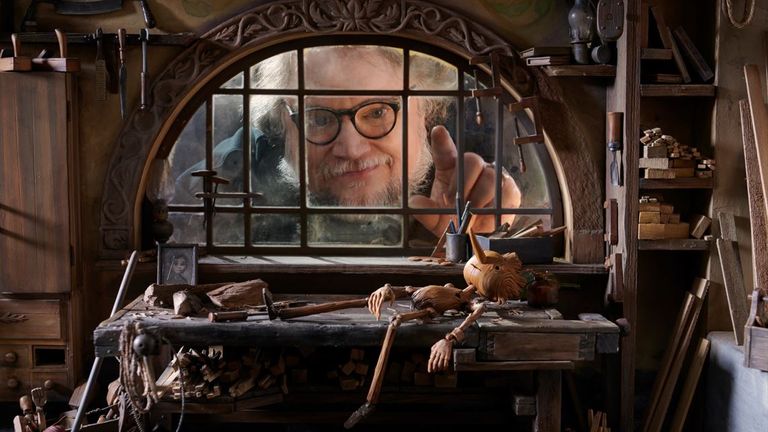 Puss takes on Pinocchio
It's also been a critical success, shortlisted at both the Baftas and the Oscars in the animated feature category.
Banderas said he was delighted when he learnt of the nomination for the Academy Award.
"Very happy, we have great competition to tell you the truth – Guillermo del Toro with Pinocchio – so this year it's going to be a very tight competition, but we have our chances, I suppose.
"The first one was also nominated and it's a beautiful recognition just to be there.
"But that's it, you know, awards are what they are, I respect them very much, but I don't want to take them very seriously."
As well as the adoration from critics and audiences, it's clear Banderas himself is fond of the small cat with the big personality.
He admits that while he loves the job – it's probably not his most challenging.
"It has been for 20 years a beautiful experience and sometimes I get embarrassed saying that it was very easy!" he laughed.
"You can go to the studio, no makeup, just go there, basically just read the cards that they give you and then you can improvise and you can try whatever idea that you have. It's kind of cool."
Puss in Boots: The Last Wish is out in cinemas in the UK now.