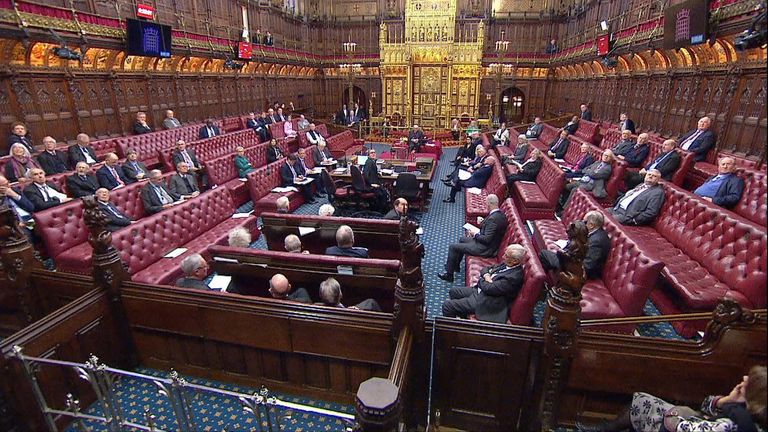 Government plans to crack down on protests have faced a major setback after key aspects of the legislation were overturned in the House of Lords.
Ministers wanted to give police the power to stop and search without suspicion near to a protest.
They also wanted to shut down demonstrations before they become disruptive in a bid to stop tactics such as slow marching and blocking roads.
The proposals were put forward as amendments to the Public Order Bill – an already controversial piece of legislation aimed at clamping down on protest methods used regularly by groups such as Just Stop Oil, Insulate Britain and Extinction Rebellion.
But critics called the plan to shut down protests before they escalate an attack on the right to protest and on Tuesday night peers rejected it by 254 votes to 240.
Both amendments cannot be sent back to the commons, because they were only added to the bill as it was introduced in the Lords.
The second, a bid to let police exercise stop and search without suspicion, was also heavily defeated by peers, who warned shoppers at John Lewis could end up being frisked and even face arrest.
During a debate in the upper chamber, concerns were raised over the impact such a move may have on innocent members of the public, particularly people from ethnically diverse backgrounds.
Opponents also warned against increasing officer powers at a time when trust in the police has been rocked by a series of scandals.
Activists disrupt House of Lords debate on the Public Orders Bill

Former senior police officer and Liberal Democrat peer Lord Paddick said: "These are a significant expansion of police powers at a time when confidence in the police is waning.
"There is potentially an endless list of objects that could be made, adapted or intended for use in the course of or in connection with protest offences.
"Coupled with the power to stop and search without suspicion, this could result in many innocent people being stopped, searched and potentially arrested for being in possession of commonplace objects.
"If a protest takes place in central London for example, potentially shoppers in Regent Street and Oxford Street could be stopped, searched and arrested for possessing household objects they had just bought from John Lewis."
A separate bid to prevent protesting "an issue of current debate" being used as a lawful excuse for blocking a road was also voted down by 248 votes to 239.
Peers went on to defy the government again in backing safeguards for journalists in the bill by 283 votes to 192.
In further setbacks for the Tory frontbench, the Lords backed restrictions on the use of controversial protest banning orders – ASBO style orders stopping people seen as disruptive from attending any more demonstrations.
The Lords stripped out completely a provision that would have allowed the orders to be imposed against people who had not been convicted of any offence.
In total, the government suffered six defeats on the second day of the bill's bruising report stage.
Read More:
Suella Braverman tells peers to back 'proper penalties' for disruptive protesters ahead of Lords vote
Labour's shadow Home Office minister Sarah Jones said: "Tonight, Labour and crossbenchers in the House of Lords voted to stop journalists being arrested or prosecuted for reporting on protests, and to stop law-abiding passers-by being stopped and searched simply for walking near a protest.
"The police have themselves said they don't need these new powers. Rightly, they already have powers to stop serious disruption and dangerous protests and Labour supports the police in using them.
"But, as usual, ministers are more interested in manufacturing rows than helping the police to do their job."
The Public Order Bill is considered a successor to the controversial Police, Crime, Sentencing and Courts Act passed last year, which was criticised for introducing curbs on the right to protest.
Defending the amendments last week, Home Secretary Suella Braverman said disruptive protests are causing delays to emergency services and draining police resources, adding: "Around 75 days of Just Stop Oil action alone cost the taxpayer £12.5m in policing response. This is simply not fair on the British public."
And Rishi Sunak said he was answering a call from police chiefs "for more clarity to crack down on these guerrilla tactics", adding: "The right to protest is a fundamental principle of our democracy, but this is not absolute."