Businesses have wasted little time in welcoming back customers after lockdown measures eased across the UK at midnight.
Prime Minister Boris Johnson urged the nation to "behave responsibly" as non-essential shops, hairdressers, salons, pubs, restaurants and gyms reopened in England.
In Wales, people can now also visit non-essential shops and travel across the border to other areas of the UK from today.
Meanwhile, people in Northern Ireland are now allowed to meet 10 people outside as the "stay at home" order has been scrapped.
Live COVID updates from across the UK and around the world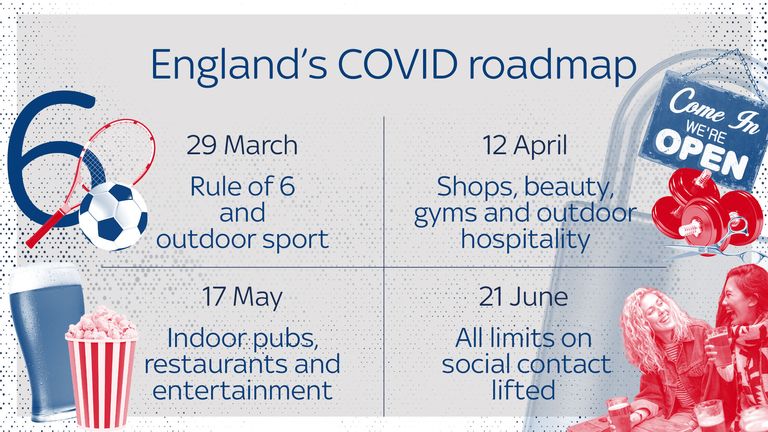 April snow showers made outdoor service at pubs and restaurants a chilly prospect in parts of southern England, but the wintry conditions appeared to do little to dampen enthusiasm.
Some pubs and hairdressers opened at midnight, while shoppers were queuing outside shops early this morning as high street retail opened up.
Shops are allowed to open from 7am-10pm to help prevent overcrowding.
Nevertheless, shoppers across the country lined up outside shops like Primark in Birmingham and JD Sports on Oxford Street this morning to grab the first bargains of the day.
The chief executive of the British Retail Consortium has called today a "big day" for non-essential businesses which are relying on customers for a boost after months of closures.
Helen Dickinson told Sky News that around £30bn of in-store sales have been lost in the pandemic so far and shops are now "desperate to welcome their customers back".
Ms Dickinson said shops would have been focusing on the safety of their customers in preparations, but the public also has a "part to play" in following the guidance.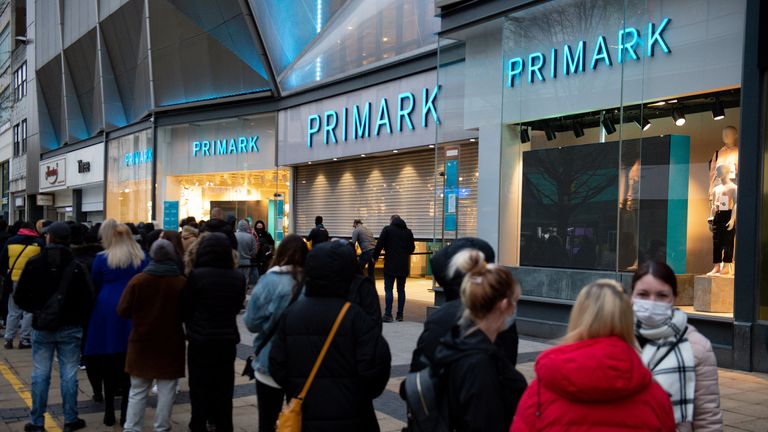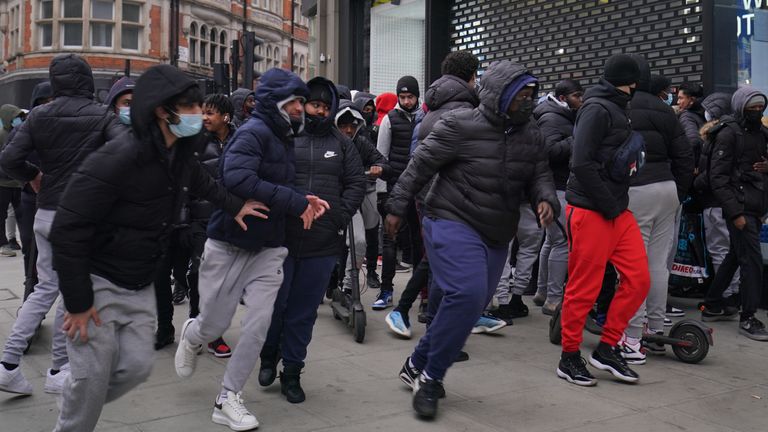 Some people welcomed today's relaxing of the restrictions by pubs and salons at midnight.
Punters in thick coats queued for a pint outside The Oak Inn in Coventry this morning. While in Newcastle, people were at Switch bar into the early hours, and others were seen at the Kentish Belle in southeast London.
Sky's Sadiya Chowdhury was at a pub in Bexley Heath, southeast London, where staff counted down until midnight to start serving drinks.
Around 18 people had turned up, wrapped up in coats and hats amid the freezing weather.
Asked whether people will be following the rules as everything opens up, one punter said: "Some people will, some people won't. Good, bad. Some people will flout. I'm not having any more!"
Meanwhile, Secret Spa in London started doing appointments at midnight.
Co-owner Emily Ewart-Perks told Sky News the demand is so high today's bookings are set to double the company's best-ever takings to date.
"We realised we had quite a few regular clients who we weren't able to book in on the first day back, so we thought 'why don't we open the first moment we can?'" she said.
"It's so amazing. It's just been such a long time coming."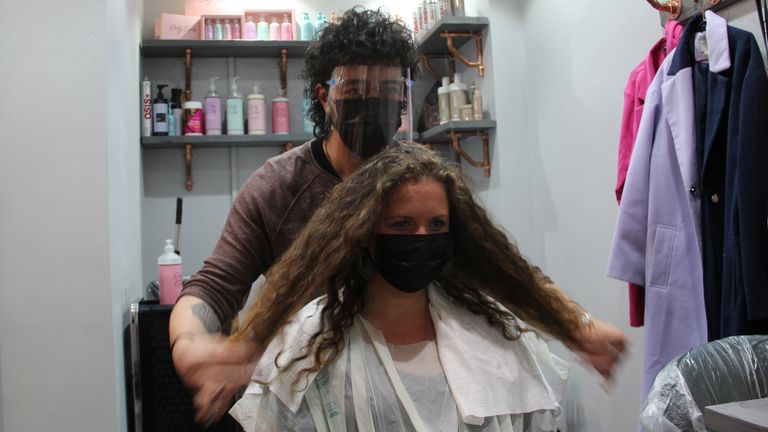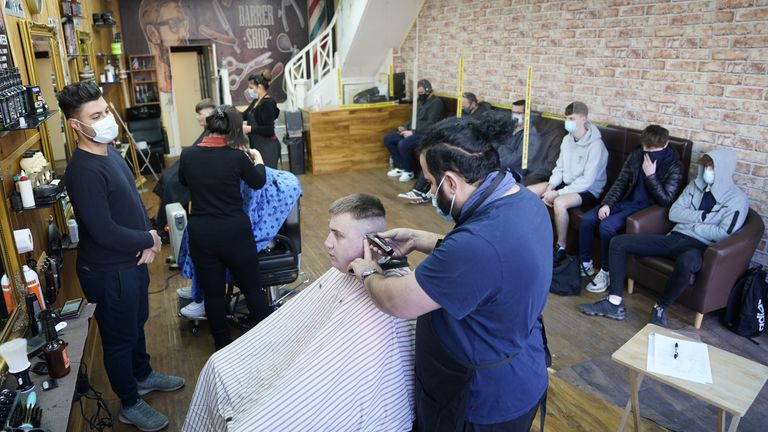 Despite the relaxation in lockdown rules, social mixing indoors will remain heavily restricted, with around two in five adults yet to receive their first dose of a COVID-19 vaccine and the vast majority yet to get both.
The prime minister urged caution during the "major step forward" as a scientist advising the government warned the rules must be followed to minimise a possible rebound in infections.
"I'm sure it will be a huge relief for those business owners who have been closed for so long, and for everyone else it's a chance to get back to doing some of the things we love and have missed," Mr Johnson said.
"I urge everyone to continue to behave responsibly and remember 'hands, face, space and fresh air' to suppress COVID as we push on with our vaccination programme."
The need for continued vigilance was underlined by former government chief scientific adviser Sir David King, who highlighted a surge in cases in Chile despite a successful vaccination campaign.
He told Sky News: "From the point of view of the population itself, we're all dying to get out of lockdown.
"From the point of view of the epidemic, I think it's all a little bit more worrying."
He added: "Chile is a country where the rate of vaccination amongst the population was third highest in the world – they were ahead of us in terms of the number of people who have had the vaccine – and they're suddenly now into a third wave."
Modelling by government advisers in the UK has suggested that Monday's relaxation will not result in a surge of cases that would put pressure on the NHS, but it is "highly likely" that there will be a further resurgence in hospital admissions and deaths after subsequent steps along the roadmap out of lockdown.